What if I told you that coffee dates are a thing and that they hold more potential pros than the cons. What if I told you that you don't necessarily have to drink coffee if you're not a fan and still enjoy the "date" part of it to the best. So you've been on a couple of coffee dates and they were the absolute worst because the beverage isn't for you. Or you've never been on one because why would you with a plethora of better restaurant options available. This is a deep dive to help decrypt the subtle art of a coffee date to your advantage.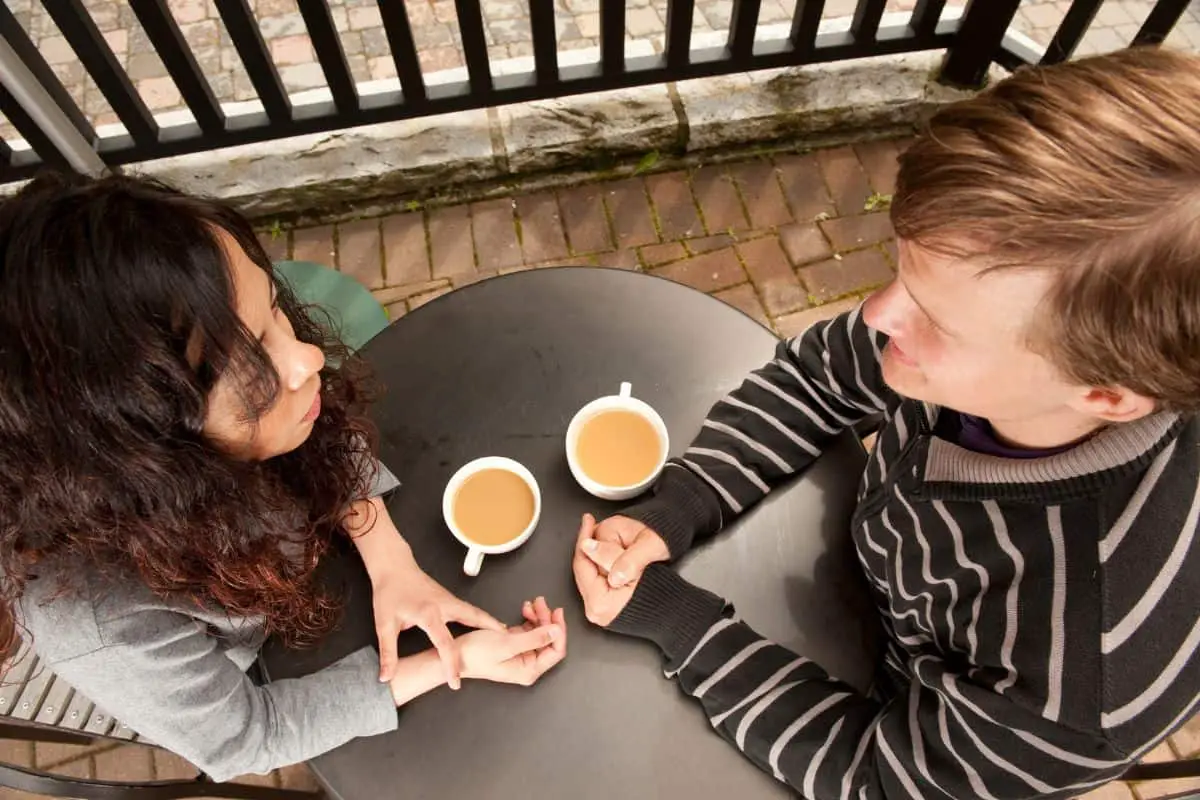 What is a Coffee Date?
A coffee date is a social interaction between two people who hold potential romantic motives toward each other. To meet over a cup of coffee is to spend a good 30- 40 minutes getting to know more about a person for the first time without necessarily investing a lot in them. A coffee date doesn't necessarily have to involve drinking coffee. It could be any sort of drink you're convenient with, tea, juice with some pastries even. The term "coffee" date is just used as an umbrella term for the other beverages. Coffee dates allow you to better decipher if you and your date are compatible.
Pros of a Coffee Date
A coffee date holds a good number of advantages.
Both parties would love guaranteed safety while meeting up, especially with a stranger, on a date. A coffee date would ensure such safety as it is done publicly and in the daytime.
Coffee isn't as expensive as some other drinks from restaurants would be. This is a great way to hold a date without breaking the bank over a drink. As long as you don't order high-end coffees. Consequently, if your date decides to foot the bill, you won't feel like you took advantage of them.
No alcohol, for better judgement. 
There are a million reasons why alcohol on the first date is a bad idea. Thankfully, coffee dates have no alcohol involved. Alcohol dulls the mind and makes you too relaxed. This gives way to say a lot of personal things you'd rather keep to yourself. Coffee on the other hand sharpens the mind and keeps it in top form.  Alcohol can even get things prematurely sexual.
What to Ask on a Coffee Date 
Some people tend to get flustered on a first date and ask themselves, "what should I ask on a coffee date?". Understandably, a good dialogue is cogent to a successful coffee date, so here are some easy fun topics to ask about on your coffee date.
Family is a good place to start, getting to know about the parents, siblings, fun family traditions, and the more superficial things. Try not to get too deep into it so you don't cross a line prematurely.
Questions about what your date does or plans to do might show your interest. Questions about what made them study the discipline, if they're passionate about it or if they would change if they could.
Other topics of interest to consider questioning about would be hobbies, guilty pleasures, passions, pets, favourite songs or artists, quotes, or comfort food. How it was growing up, memorable experiences (good and bad). These questions show a delicate yet proper mix of intentionality and curiosity about your date as you want to ask about things dear to them while knowing more.
What Do You Do on Coffee Dates?
Speaking of what to do on a coffee date, there are several things you should keep in mind. First, pick a good location, a local shop is alright. Be sure it has a lot of seats. Secondly, always reconfirm the date. Show up early, no one wants to have their time wasted on a coffee date. Being on time gives a good impression.
Offer to pay. One of the peculiar pros to coffee dates is its cost. Since it's not expensive, offering to pay is a good move. Now that the beverages are here, make small talk and ask questions. Lastly, do not spend too much time on your phone. People tend to get carried away with that sometimes. It could be disrespectful and annoying to your date.
Is a Coffee Date a Good First Date?
A coffee date is probably one of the best forms of a first date.  Imagine preparing a dinner date night with a stranger, 10 minutes into it, you realize they're not for you. That would be an unfortunate and complete waste of both your nights. A coffee date is supposed to ease you both into the relationship in a safe and public environment. You have the liberty to assess each other well enough to decide if you're a fit and how much, and then you can plan a dinner date next.
How to Ask for a Coffee Date
Asking for a coffee date isn't rocket science, it's pretty simple. Simple but not necessarily easy for everyone. Asking a stranger out on a coffee date is relatively different from asking an acquaintance. Preferably do it in person and be sure to read the body signs and atmosphere. Usually, when you approach a person to introduce yourself and they smile and give you their attention, they might be interested in what you have to say. If the person looks disinterested or irritated, you know it's your cue to not introduce yourself and leave.
After introducing yourself, giving a nice compliment or a gesture, you could then ask in a gentle and inviting tone. A straightforward polite ask is not a bad way to ask. "I was wondering if you would like to grab a coffee sometime this weekend". "Would you like to get coffee sometime next week?" Giving a good estimate of the time frame shows you're assertive. It also gives the person, if interested, an approximate date or time to look forward to.
What to Do after a Coffee Date
You've successfully aced the coffee date, what to do after a coffee date. Here are a couple of suggestions. After the date, you could offer up a walk. This is especially great when the date ended with a yearning for more. If accepted, take a walk and talk about how much you enjoyed your time together and how you look forward to the next meet-up.
Likewise, if there is no chance for a walk, a text within the next 24 hours would be great. Forget about the gender superiority war of who should text first. Text and tell the person how much you enjoyed spending the previous day or afternoon with them. Also, how do you look forward to more dates? Adversely, if the date didn't go too well or you feel a sort of distaste from the chats, ask for clarification always.
Coffee Date Tips for Guys
She's shy too. According to Psych Central, about half of the world population consider themselves shy. You might not be the only nervous one on the date.
 Be sure to give compliments. Compliments show you're confident and that you appreciate your date's effort.
Don't compliment her looks too much. I know I said to compliment her, but like all things, it should be done in moderation and sincerity. Don't be a simp.
Don't defer from the date's plan. Although it's gentlemanly to try to conform to the ladies' needs, women also admire an assertive man.
Dress to impress. Of course. Needless to say, don't sacrifice comfort for fashion.
What to Wear on a Coffee Date
First, I'll tell you what not to wear. Be certain to avoid clothes with holes, stains, and piles. Now on what to wear, try something neat, and clean with a hint of professionalism. This could go for both genders.
Coffee Date with a Friend
A coffee date with a friend could prove a very important moment. Sometimes friends take their relationships to the next level over a cup of coffee. If this is initiated over a coffee date and not over alcohol, it could symbolize respect, openness, and unwillingness to manipulate. Coffee with a friend of the opposite gender doesn't necessarily mean he wants to update the relationship into a romantic one. Sometimes, friends talk about life matters and dilemmas that require honest advice.
Coffee Date at Home 
Coffee dates at home are a fun in-house date method usually for couples. Couples create a coffee bar, get pastries, and snacks ready, and get cozy, especially on cold nights and days. They sit and talk, taking turns asking questions about each other. They can talk about peculiar quirks or idiosyncrasies they love or dislike, even about each other. Couples could also iron out quarrels and make-up. If a coffee date at home is done right, it can make a relationship more interesting.
Coffee Date Time of Day
Coffee dates are ideally experienced on weekends, in the morning and afternoon. Nevertheless, they could be whenever both parties are free and chanced. Couples who fancy a coffee date at home, for instance, could take a coffee date anytime they wish.
Final Words
Coffee dates are a great way to build relationships. Are you meeting a stranger in person for the first time?  Are you trying to spice up your marriage or couple's life? You should consider coffee dates. Even as friends trying to take their relationships to the next level, a coffee date is the all-cure. Be sure to try this out and enjoy the beauty coffee dates have to offer.
Also read: Why Coffee Dates Are A Bad Idea?