You can use coffee for many interesting things. It's used in beauty treatments and food recipes. Some people also infuse oils with coffee and use it as an air deodorizer. But did you know that you can infuse tobacco with coffee?
Infusing tobacco with coffee is a common technique used by smokers to enhance the aroma of their cigars. It is an intensive process that is mainly done by hobbyists.
But you can also use the technique to save money that you would otherwise use to buy premium infused cigars such as ACID cigars, and Tatiana Miniature cigars.
Coffee is not the only substance used to flavor tobacco; you'll also find other ingredients such as rum extract, hazelnut, chocolate, and vanilla essence. But coffee remains a firm favorite because of its rich aroma.
It's hard to ignore the smell of coffee in a bag, on a table, or in a cup. It has a distinct aroma that enhances the smell of baked goods, cosmetics, and home care products. Therefore, it's no surprise that you can use coffee to improve the smell of your cigars.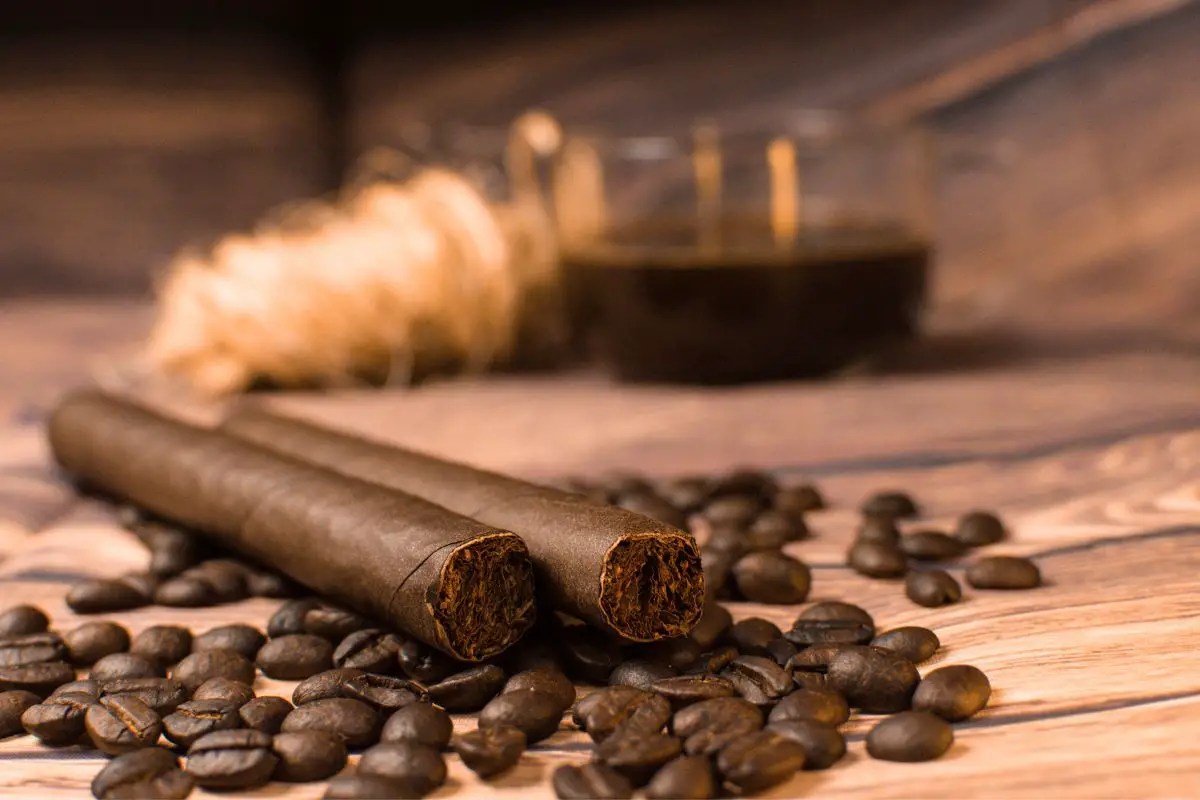 Is It Difficult to Infuse Cigars with Coffee?
While you may think cigar infusion is a complicated exercise, it is not. No expert skills are required to do it. It's as simple as storing good-quality cigars in a sealed bag with coffee beans or coffee essence for a few days to a month.
Smoking a cigar infused with coffee flavors gives them a strong coffee flavor. When you smoke or smell them, you get a pleasant coffee aroma and tobacco smell. It's like you are drinking coffee while smoking your cigar.
The oil on the coffee beans or coffee essence coats the cigars and gives them a strong coffee aroma. That sounds like an interesting experience, right? Here's how to enhance the aroma of your cigars with coffee.
How to Infuse Cigars with Coffee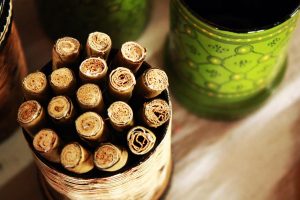 The type of cigar you infuse with coffee matters. Cigars with a fine wrapper may absorb the oils in the coffee beans and split, thereby getting ruined. Therefore, always go for those with a thick, dark Connecticut wrapper.
If you choose to use coffee beans to infuse your cigars, pick a light or medium roast unless you like the smell of dark roast coffee. These types of coffee beans have retained most of their flavors and will transfer amazing notes such as fruity, floral, and spicy to your cigars.
Remember, mild or medium profile cigars absorb coffee aromas best. Dark profile cigars have a horrible aroma when you add the smell of coffee to them.
Here is the procedure to follow when infusing cigars with coffee.
How to Infuse Cigars with Coffee at Home
Ingredients
Zip lock storage bag or airtight container
Coffee beans or liquid coffee infusion
11/2 inch cotton pads
Humidor
Procedure
Remove the bands from the cigars you want to infuse.
Infuse the cotton pads with the infusion or coffee beans you want to use. Make sure you have a cotton pad for every cigar.
Carefully place the cigars into your ziplock bag, along with the infused cotton pads, and flatten it to release any excess air.
Fold the bag slowly and secure the end with the zip-lock closure system.
Tuck the bag of cigars into the storage bag and label it. You may write the date of infusion or type of cigars on it as a reminder.
If you are using different types of infusion, remember to note that on each bag too.
Store the cigars in a cool, dry place or a humidor. The oils in the empty coffee bean bag will create a humid atmosphere and infuse the cigars with flavor and aroma.
Check on your cigars after two or three days to see how much flavor they've absorbed. If they are satisfactorily infused, remove them from the bag.
Ensure you dry the cigars to eliminate any liquids absorbed during the infusion process before smoking them.
Now you can enjoy smoking cigars with a rich coffee aroma. Store them in an airtight container to keep them fresh and preserve the infused aroma.
How Does It Feel to Smoke Coffee-Infused Cigars?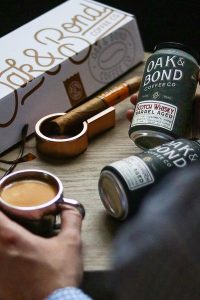 The experience of smoking coffee-infused cigars is different from that of smoking plain ones. You will notice the cigar cap and foot have most of the coffee aroma.
Once you perform a dry draw, you will notice a coffee aroma accompanying the smell of your cigars. The depth of the coffee aroma is determined by the type of coffee and cigars you've infused.
You'll only fully appreciate the aroma of the two after you perform a cold draw. That's lighting the cigar and inhaling the aroma as you try to identify the individual notes emanating from the cigar smoke.
If you've correctly infused the cigars with a coffee aroma, you will be able to identify the unique notes of the coffee beans as you smoke the cigars.
Coffee Infused Cigars You Can Buy
You may find the process of infusing cigars with coffee tiresome and decide to purchase coffee-infused cigars instead.
Here are a few options.
Drew Estate Java Cigars
Java cigars from Drew estate are among the oldest coffee-infused cigars that you can find.
These cigars have a sweetened cap that keeps smokers from feeling the bitterness associated with smoking cigars. They are wrapped in Brazilian Mata Fina wrappers and have long Nicaraguan fillers.
Drew Estate Java cigars release a sweet, mild smoke that smells of South American spices.
Java Latte Cigars
Java Latte cigars have a lighter flavor than Drew Estate Java cigars. They are wrapped in Ecuadorian Connecticut Shade wrappers.
These cigars have a mellow, spicy aroma that's accompanied by amazing mocha, honey, and cream fragrances.
Nub Cafe Cigars
If you really appreciate your morning cup of coffee, the best type of coffee-infused cigars to use are Nub Cafe cigars. They release a rich coffee aroma and can be paired with coffee, whiskey, or rum.
Nub Cafe Cigars are the types of cigars you smoke on vacation or during the weekend, along with your favorite brew.
Conclusion
If you enjoy drinking coffee and smoking cigars, infusing your cigar with the aroma of coffee is the best way to enjoy both worlds.
You should also note that cigars have different flavors. Therefore, it's best to try several kinds of coffee-infused cigars to appreciate the different flavors that coffee infusions can give them.
When infusing cigars, make sure you identify their distinct flavor. It will help you to pick the right coffee infusion to use that will enhance their aroma.
Cigars with a smooth profile pair well with light roasts that have a fruity flavor. These are the types of cigars you smoke on a sunny day.
Those with a deep and rich flavor will pair well with dark roast coffee, rum, or whisky. The kind of cigars you appreciate in the evening as you unwind from a busy day.
You may also infuse your tobacco with liqueur in addition to coffee. A good combination to try is coffee and amaretto.