There are various efficient compatibilities between coffee bean types and brewing devices or methods. You would also find that brewing devices and methods produce better coffee with specific grind sizes. The French press is a well-renowned coffee brewing device. This article will discuss the French press, what coffee beans are best for the device, and its method.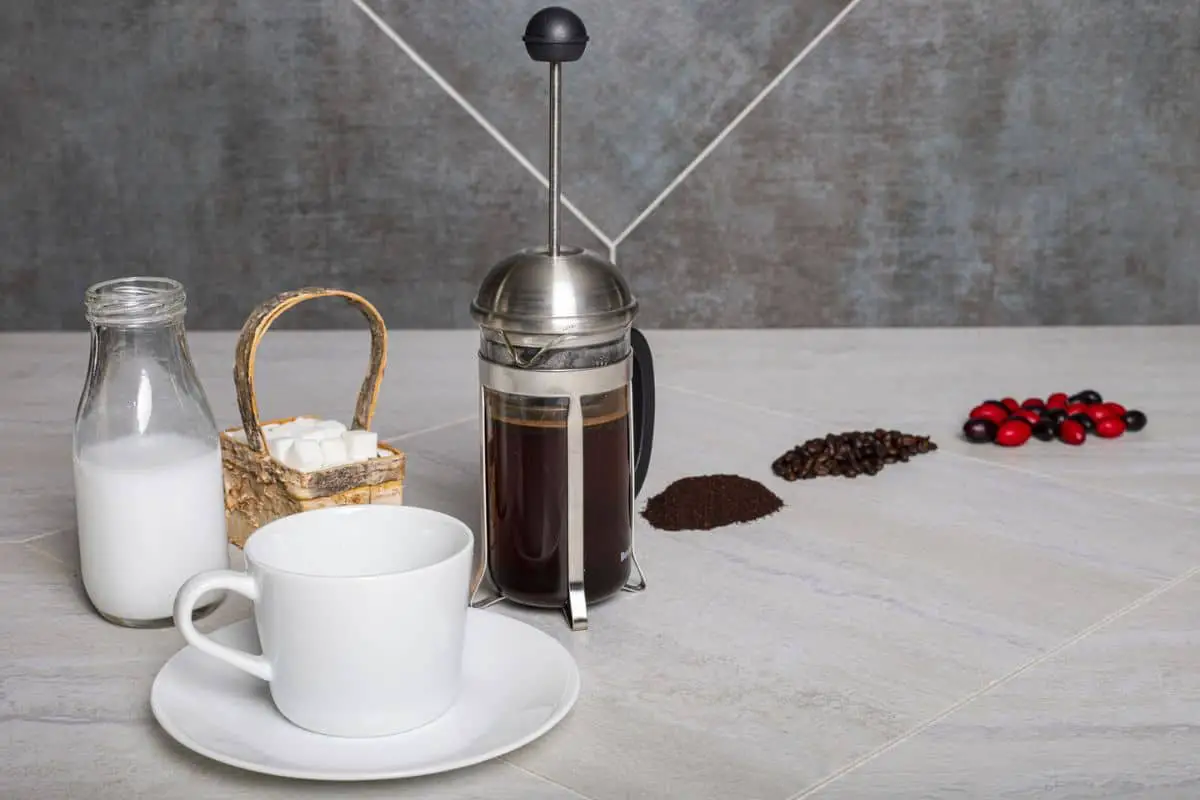 What is the French Press?
The French press is a coffee maker that works most effectively with coarse-grind coffee beans to make coffee. Also referred to as a press pot, coffee plunger or coffee press, it has other uses besides coffee-making. In terms of appearance, the French press constitutes a narrowed cylindrical beaker, a plastic or metal lid and plunger fitted well into the cylinder. There is also a fine stainless steel wire or mesh filter.
French presses are portable and hence suitable for travelling purposes. You'll find that there are iterations like the travel mug version easily marketed to travellers, hikers, campers and backpackers who wish to travel light. Some review sources have claimed that the optimum brew time is four minutes. It's advisable to decant the coffee brew from the used grounds following completion—failure to decant results in a bitter and chalky taste. However, some users find the consequence desirable.
How to Use a French Press 
Here's a procedure on how to use a French press.
First, fill the French press with water, then boil to about 90 degrees. Water quantity of about 300- 500ml or 10- 17 ounces is decent. (This quantity of water to about 30 grams of coffee grounds is good. You can adjust later on depending on desired taste)
Suppose you are using a ratio of about 1:12 coffee to water ratio; set aside your coffee grounds. Ensure that the coffee grounds are a coarse, even grind. Advisably, grinding coffee beans before use beats purchasing pre-ground coffee. You can expect to enjoy the optimal flavour and aroma of the beans. For instance, you'll need 29-30 grams of coffee ground for 350 grams of water.
Place your coffee grounds into the beaker compartment, then carefully pour twice the amount of water to start with. 30 grams of coffee to 60 grams of water, for instance.
Stir the solution gently with a spoon, then allow the coffee grounds to sit for about thirty seconds.
Pour the rest of the boiled water and cover the beaker with the lid. Let the mix sit for no lesser or more than four minutes.
After four minutes have lapsed, press the filter down. You might have some difficulty at this stage if you use a grind size that isn't a perfect coarse size. If the filter is hard to press, the grind is too fine, and If the plunge is delayed, the ground size is too coarse.
Once you're done pressing, serve the coffee instantly. Avoid letting the brew sit unless you want the coffee grounds over-extracted and more bitter.
Best Coffee Beans for French Press
Waking up to a nicely brewed hot cup of coffee to start the day is every coffee lover's dream. You can achieve that in four minutes with a french press, wasting no time. But as a coffee enthusiast, it's crucial to know what coffee beans are best for the French press. Knowing that the coffee ground is a coarse, fine grind isn't enough. So here are some of the best coffee beans for the French press.
Real Good Coffee
This coffee is said to be the best French press roast. Their coffee beans are a hundred per cent Arabica. Sourced from central and southern America. The beans have a complex taste of sweet, dark-roasted flavours. There are also underlying tastes of dark chocolate, raspberry and star anise spice. Expect no artificial additives, ingredients or preservatives.
The pros and cons include the following.
Pros
Affordable.
This coffee is bold with its mix of flavours and richness.
Natural ingredients are used to make this coffee.
100% Arabica beans.
Compatible with French press .
Cons
The coffee is a bit on the bitter side.
There's high acidic content. It might not be best for coffee lovers who get acid reflux or burns from coffee.
Koa Estate 100% Kona Coffee 
This coffee is said to be the best dark roast. Originated from Hawaii, it's said that this coffee is considered one of the best globally. Naturally, Hawaii's topography and climatic conditions make it suitable to produce this high-quality Arabica beans-based coffee. The roast level is dark and has a dominant taste note of chocolate, coconut and tropical nuts.
Pros 
You can expect high quality.
The coffee has a complex blend of flavours.
Made from Arabic beans.
Compatible with the French press.
Cons
Dark roasts might be a turn-off for some.
Volcanica Coffee Ethiopia Yirgacheffe
The next coffee is known for being one of the best light roasts. This is an excellent option for French press users who don't like dark roast coffee. This coffee originated from Ethiopia and has floral and fruit hints in the flavour. There are various taste notes, including blueberry, blackberry and lemon. The Juicy flavours of this coffee make it one of the best you could get when it comes to cold brew French press coffee.
Pros
Great for cold brew coffee.
Still french press compatible.
Great flavour notes
Cons 
The light roast might not be desirable for some.
Death Wish Coffee 
This is said to be the best high-caffeine roast, so you can expect it to pack a punch. Coffee drinkers who need an intense caffeine shot should consider this option—offering maximum caffeine levels in the blend. It's safe to say to expect a low energy boost. Each ounce of this beverage contains sixty milligrams of caffeine.
This concentration level is obtained by using a technique involving handpicking the coffee beans and then roasting slowly to get a dark roast. There are no overly acidic or bitter aftertastes with this blend. Expect consistent freshness, quality and no artificial additives. Moderation is key. Consume this highly caffeinated beverage judiciously.
Pros
You get an intense beverage with a lot of boosts.
There's no bitter or overly acidic aftertaste.
French press compatible.
Cold brew compatible.
Handpicked coffee beans
Cons
The dark roast might be undesirable to some.
Excessive caffeine consumption could prove detrimental.
Other Uses of the French Press 
Here are other different uses of the French press.
Make tea
Make frothy milk and whipped cream
Mix drinks
Cold brew coffee
Drain defrosted food
Infuse oil
Rinse grains
Re-hydrate food
Infuse water
Conclusion 
The French press is a fast and great way to make your daily dose of coffee supply. However, while this article has given some options on compatible coffee products with the French press, your preferences matter. Individual choices and opinions differ, so you can expect a different idea of what coffee beans go well with the French press. As you purchase your coffee beans, check the bean type, production and expiration date to get the best.
Some of these products are available in convenience stores and supermarkets. There are numerous other uses of the French press, so if you're purchasing one for the first time, consider it a good investment. Not only can you make hot coffee, but cold brew coffee also, especially during summer.
With the aid of a French press of your own, you could cut costs on paying for a cup of coffee outside your home unless you want to. Quickly get a nice beverage whenever you feel like it and even experiment with different other things. In no time, you could become your very own barrister. Hopefully, this article has enlightened you about the French press and the best coffees compatible.
Related Articles
Which Coffee Beans Are the Best?
What Coffee Beans Are Best for Cold Brew?
Which Coffee Beans are Best for a Latte?
Which Coffee Beans are Best For Cappuccino?
Where to Buy the Best Coffee Beans in the World?
When Are Coffee Beans Best to Use?