Many people love drinking coffee. While some brew it at home, others prefer the convenience of buying ready coffee. Those who prefer buying coffee always choose the best cafes and street sellers. If you wish to sell coffee successfully, especially on the street, then you should have happy customers who will love your brew. However, building trust takes time and largely depends on the kind of coffee and service you offer potential customers.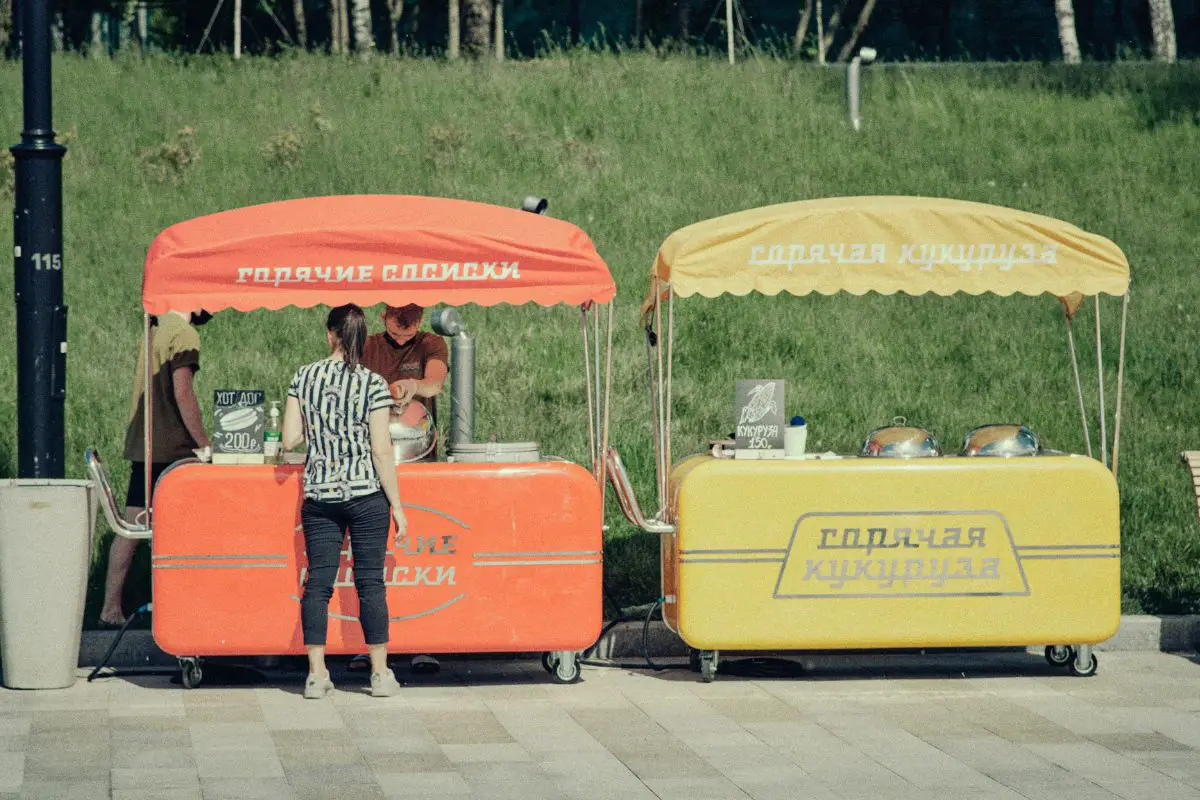 For some investors, selling coffee on the street may not be a huge task. However, a first-time coffee seller may have no idea where to start. In this article, we will show you how to sell coffee on the street successfully.
Get the Required Permits and Licensing
As a street coffee seller, there are certain rules you should abide by. However, permit and licensing regulations may defer from one state to the other. Generally, you will require resale permits, a vending license, and a sales tax permit.
By getting the required documents, you will give your street coffee business a great level of legitimacy. Failure to meet the requirements in your state may result in huge fines and sanctions. You definitely want to run a clean business. Hence, learn more about the regulations in your area before starting your street coffee business.
Get a Mobile Coffee Cart
When selling coffee on the street, you will need to choose between a mobile cart and a stationary kiosk. Your choice will depend on what you find better. Regardless, a mobile cart is more convenient as you can go to your customers rather than wait for them to come to you. Just make sure your mobile coffee cart is easy to operate and marked with signs of your business to make it more visible to your potential customers.
Choose Where to Sell
Selling coffee on the streets requires you to choose the location carefully. You need to choose a site on a very busy street. Some busy spots include sports arenas, car parks, events, shows, and campuses among others.
If you are operating a mobile cart, you can move from one location to another depending on the spots that will attract more sales at a certain time. If you want to operate from a kiosk, ensure the spot is ever busy with a high population.
Timing
In addition to the location of your business, you need to time peak hours to sell more. Have your coffee ready during the time of the day when most coffee lovers prefer drinking coffee. Most individuals prefer taking coffee in the morning as they head to work.
Be Friendly
Always communicate to potential customers with warmth as you try to sell them your coffee. Customers are more likely to flock to your business if you show them that they matter.
Identify and Exploit your Edge
As you hit the streets to sell coffee, you will come across competition from other coffee businesses. You can only penetrate the market by identifying your edge. To do this, have a competitive pricing structure, sell more premium coffee, and offer excellent services.
Focus on Customer Loyalty
It is often challenging to start a street business. However, you can handle the challenge of entering a new market by understanding the market better. Focus on creating loyalty to ensure you get returning customers. Customers are more likely to return if you offer them exceptional services.
Ensure the quality of your service is consistent for both first-time and returning customers. Failure to offer consistent services will not attract returning customers. However, creating loyalty will help bring more customers, including referrals.
Use Effective Marketing Strategies
Making great sales results from effective marketing. Regardless of the size of your business, you will need to employ effective product marketing strategies to run a profitable business. For instance, focus on word-of-mouth as you penetrate a new market. Ensure your services and coffee drinks are exceptional to be worthy of telling.
Summary
Selling coffee on the street can be a profitable business, especially if you know how to go about it. By following the above tips on how to sell coffee on the street, you will increase your coffee sales and retain loyal customers. Besides, you must be passionate about what you do and be committed to your business.
Related articles:
How Much Does It Cost To Run a Coffee Shop Per Month?