Over the last two decades, there has been an increase in the popularity of flavored coffee drinks. These coffees often contain syrups as one of their main ingredients. Coffee syrups have been popularized across the globe by major coffee chains such as Dunkin' Donuts, Starbucks, and Tim Hortons among others.
Coffee syrups are used as artificial flavors and sweeteners. The flavors vary widely, with the most common ones being vanilla, lavender, caramel, and strawberry among others. In this article, we will discuss who sells coffee syrups.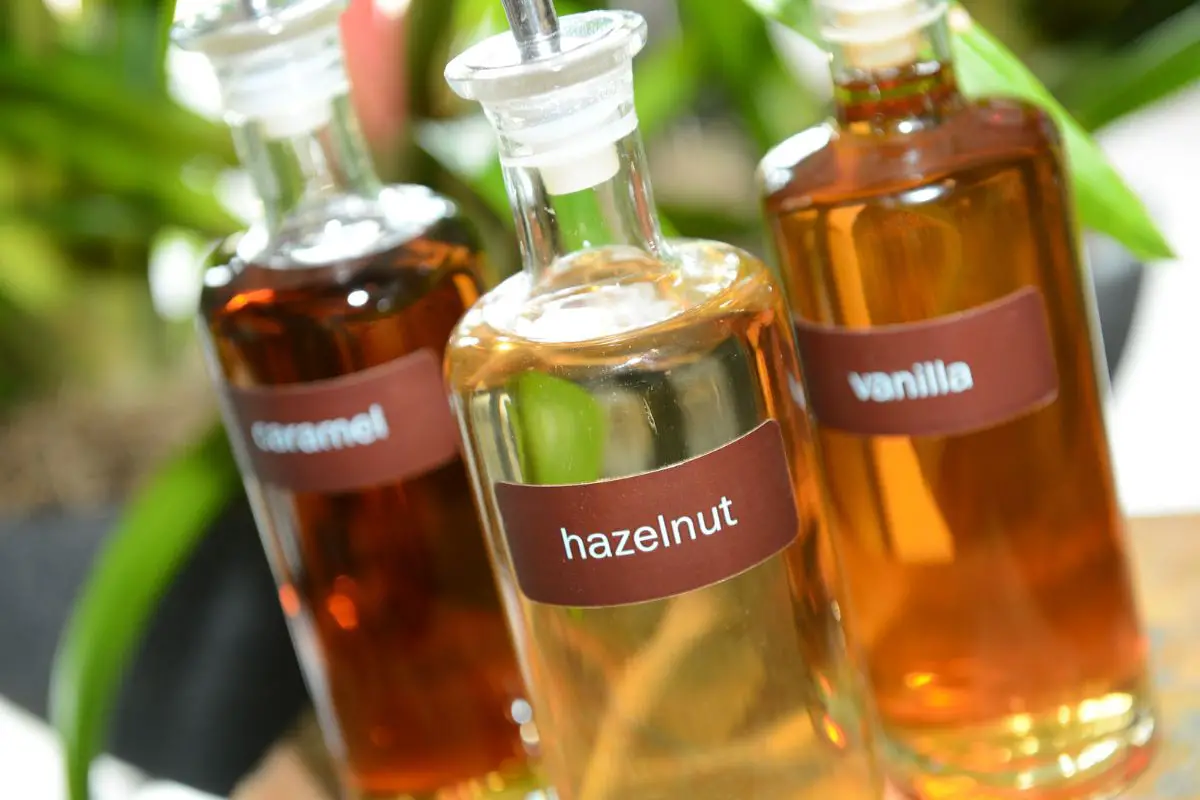 Brief History of Coffee Syrups 
Initially, commercial syrups were produced to flavor certain cold drinks such as cocktails and Italian sodas. Syrups meant for flavoring coffee emerged in the 1980s. There were many efforts to make a syrup featuring a specific consistency, which would be ideal for coffee. The first syrup manufacturers aimed for a stable formula that could be served with either hot or ice-cold drinks without problems.
Syrups made for cocktails have higher sugar concentration that balances out the spirits. On the contrary, coffee syrups have lower sugar concentrations to complement coffee flavor. Coffee syrups have to be made in a way that their consistency is stable at very high temperatures. The reason is that most hot coffees are served at a temperature exceeding 60 degrees Celsius.
The popularity of coffee syrups went up after Starbucks started offering coffee drinks with added syrups in 1994. At the time, there were a few coffee syrups to choose from. Today, there are dozens of coffee syrup flavors.
Who Sells Coffee Syrups?
Research by the National Coffee Association indicates that 80 percent of coffee consumers in the U.S customize their coffee drinks in various ways. Of these, about 7 percent add syrups to their coffee. Their research findings project that the global market of flavored syrups will continue growing by an average of at least 5 percent annually by 2025.
Within the flavored syrups market, there is a sub-sector of coffee syrups. Research shows that most first-time coffee drinkers start by trying coffee with sugar or milk. These additives make it more palatable for first-timers. You will hardly find someone starting with a double espresso. Instead, they will want something sweet.
Syrups make a great alternative to sugar for sweetening and flavoring coffee. Also, they are great additives for those who don't like dairy. Here are some of the leading sellers of coffee syrups globally:
    1. Torani
Torani is one of the oldest coffee syrups. It has been in the market since 1925. Torani's syrup was used during the debut of the original flavored latte. Today, Torani offers a wide selection of coffee syrups. They have all the kinds of syrups you would want, even unique ones such as passion fruit, hazelnut, and bourbon caramel. Torani syrups are loved for being free of corn syrup, which is a high-fructose product.
    2. Starbucks
Starbucks is one of the leading sellers of coffee syrups. They sell the same syrups they use in their coffee drinks. Their syrups such as Hazelnut, caramel, and vanilla are naturally flavored, making them ideal for people who prefer natural coffee additives.
    3. Autocrat
Although a bottle of Autocrat syrup looks old-school, the company sells some of the tastiest coffee syrups. The company started making syrups in the 1930s. Autocrat was later acquired by James Finlay Unlimited, but their products are still sold under the classic name, Autocrat. However, their coffee syrups are only available in standard flavors.
    4. DaVinci
Although DaVinci has not been around for long like other notable coffee syrup sellers, they have been making top-quality syrups since 1989. The company makes and sells syrups in typical varieties such as caramel, vanilla, and strawberry. They also offer some exotic options such as amaretto and butter rum. Their syrups are loved for being fat-free. They are made of pure cane sugar. Also, they offer sugar-free products.
    5. Lyle's Golden Syrup
Lyle's products are certified as Fair Trade and sustainable. The company makes its coffee syrups using pure cane sugar instead of processed and white sugar. Their syrups are often denser with a subtler flavor. Also, the company offers a zero-calorie sweetener.
    6. Monin Organic Vanilla Syrup
Monin is yet another old company in the market of coffee syrups. The company uses BPA-free bottles to package its syrups. Also, the company promotes the regrowth of the bee population. They use their syrups to feed billions of bees around the globe. It is also worth noting that their syrup does not contain artificial flavors. It is gluten-free, vegan, and non-GMO.
    7. Jordan's Skinny Syrups
If it's your first time trying coffee syrups, Jordan's Skinny Syrups are great for a start, thanks to their small packaging. The company's syrups contain zero calories, zero carbs, and zero sugar. The syrups are kosher-certified, produced in America, and gluten-free.
    8.Upouria Syrups
Upouria offers an inexpensive way of sampling traditional coffee syrups. Their French vanilla and caramel flavors are most notable for their natural flavoring. They are halal and kosher-certified, gluten-free, and vegan-free.
    9. Amoretti Peppermint Syrup
If you prefer something seasonal, Amoretti has got you covered with their peppermint syrup. The syrup is suitable for iced or blended drinks. It is made with natural flavors. Each serving or pump contains 35 calories only.
Summary
Coffee syrups are a great alternative to sugar and dairy. They add flavor and sweetness to coffee. Some are made with natural flavors while others may contain artificial sugars. But who sells coffee syrups? As you can see in this article, there are many popular coffee chains and manufacturers that produce and sell coffee syrups. You can try different flavors from different sellers until you find the best option for your taste preferences.