You've decided to declutter your kitchen and give it a new look or make space for some new kitchenware. That means going through every area in your kitchen to straighten up what you don't like.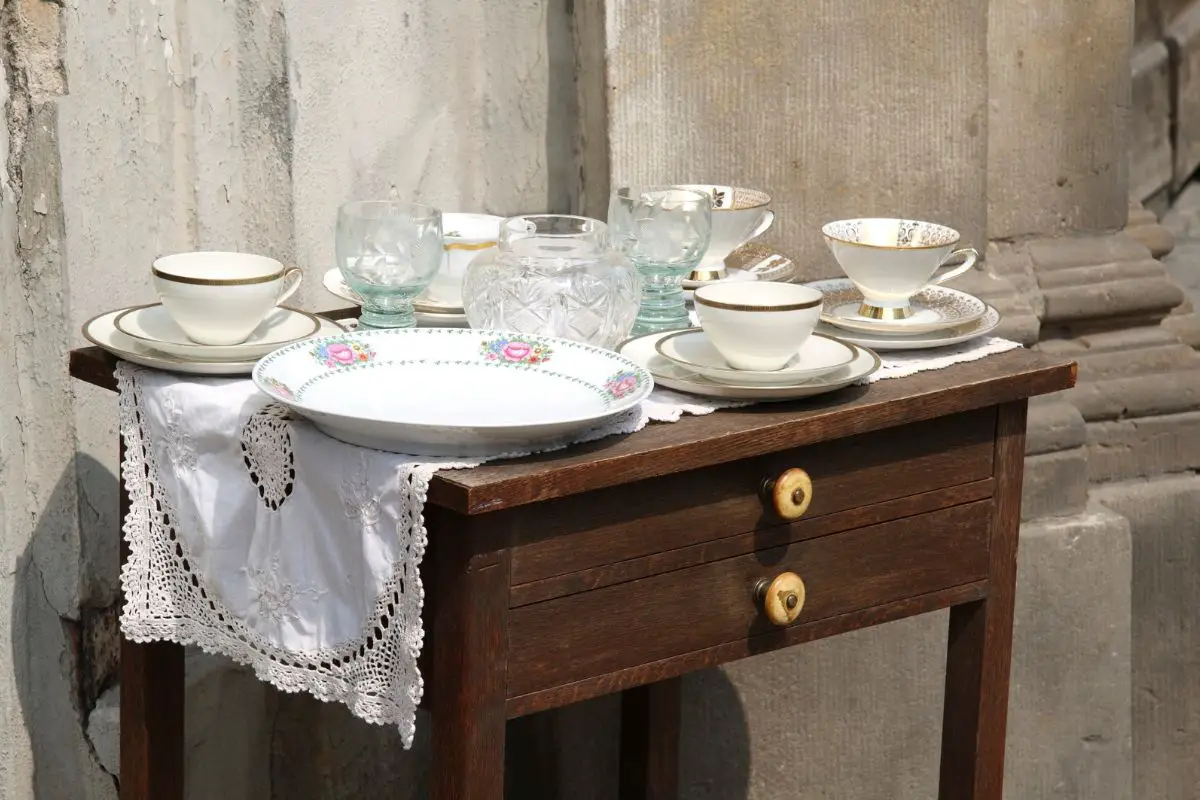 When you open your kitchen cabinets, all you can see are coffee cups. And if you are like me, many of them have no partners.
They could be cups you bought because they have an interesting quote such as "coffee is a hug in a mug!"
Or some may have been broken as the years went by while serving guests coffee or taking it yourself.
Do you need all those cups in your cupboard? Probably not. But throwing them out is not a good option. Adding ceramic and porcelain waste to our landfills harms the environment.
You don't have to stress about where to keep those old coffee cups. There are many exciting ways to recycle them. But why should you?
Reasons to Recycle Your Old Coffee Mugs.
Most people don't consider recycling their old crockery, but it is a good idea for several reasons.
Reusing items you would otherwise throw in the garbage reduces waste.
Making household items you would otherwise buy saves you money.
Recycling projects such as upcycling old coffee cups, gardening, or creating art is a relaxing way to spend your free time.
Items you make with recycled coffee cups, and other used items in the home will add a unique appeal to your home.
Reusing old items gives them a new lease of life which is much better than throwing them out.
Here are a few suggestions on how to recycle old coffee cups.
    1. Make candle holders
Small coffee mugs can make excellent candle holders. All you have to do is stick a candle in them whenever you need to light one.
They collect melting wax perfectly and are unlikely to break when exposed to extreme heat.
You may also pour some decorative items at the bottom to hold the candle up, such as marbles, coffee beans, or decorative rocks.
Coffee cup candle holders look good anywhere. You can have them on your bathroom counter, bedroom vanity, dining table, or outside at the patio sitting area.
It's a great way to use a set of coffee mugs that matches your home decor color.
    2. Create a Bird Feeder
Old coffee mugs also make excellent bird feeders. They are tiny enough for most birds to feed off, and they add some interesting appeal to a garden.
Stick the coffee mug of your choice in places that birds frequent, such as close to fountains, water walls, or ponds.
Coffee cup bird feeders can hold any type of seed. You can also use them as water holders for birds if they are wide and not too deep for the birds to drink water in.
Birds enjoy splashing in any item with water. You've probably seen them splashing all over paddles in the road.
You can expect the bird features you've created from old coffee cups to attract several of them to your home.
    3. Plant Some Herbs
Coffee mugs make excellent herb pots because they don't need much soil to grow. Some examples of herbs you can plant in your coffee mug are mint and rosemary.
You can also grow small plants such as Cacti, Zebra plants, and Hens & Chicken, which you can expect to flower from time to time.
Place the coffee mugs wherever you've grown herbs and plants on your kitchen window for an inspiring picture.
It will give you an incredible feeling every time you look at them, especially if they are of an attractive color.
    4. Make Coffee Cup Mosaic Art
Mosaic is one of the art styles you can easily do at home. It's always great to have something you've made with your own hand decorating your home.
All it takes to create art with old coffee cups is to piece together broken parts of coffee cups to make an interesting picture. Here is the procedure.
Requirements
Old coffee cups
A piece of smooth plywood
Stencil of the art you want to create
Safety goggles
Hammer
Thick blanket
Pencil
Mosaic glue
white sanded grout
Clear water-proof sealant
Procedure
– Cover the old coffee cups in a blanket and crush them with the hammer.
– Separate the broken coffee cup pieces into matching colors.
– Draw an outline of the picture you want to create on the plywood with a pencil by outlining the stencil. A coffee cup is a good idea.
– Gradually stick the broken ceramic or porcelain pieces onto the art outline using mosaic glue. Avoid covering areas outside the design.
– Give the mosaic at least 24 hours to dry, and then apply some white sanded grout on the whole piece to fill any spaces in between the components of your mosaic.
– Once the grout is dry, apply 2 or 3 coats of sealant on your mosaic to give it a glossy shine and protect the art piece from weather damage.
– Let the sealant dry, and then display your mosaic piece wherever you like. You may also frame it.
That's how easy it is to make a mosaic from old coffee cups. If you have difficulty finding the materials you need, ask the sales attendant at your local craft store, and they will help.
    5. Create Coffee Cup Lampshades
Coffee cups make unique lampshades. Hanging one over your kitchen table or outside sitting area is a great way to reuse old coffee cups.
These types of light fixtures make fantastic conversation starters. Just drill a hole at the base for the light cable to pass through, and you have a lampshade for your bulb.
Find a wide, bright coffee mug for this DIY project because it will reflect the light from the bulb and spread it around beautifully.
    6. Sell Them Online
You can also make money from your old coffee cups if they are not broken, chipped, or stained.
There are online stores such as Craigslist and eBay on which you can upload pictures of attractive old mugs you think will fetch a great price. That may open up the way for you to sell other antiques.
Garage sales are also good because you can sell other items in the house you have no use for.
There are also free sharing websites on which you can give your old coffee mugs to others who may appreciate them, such as Olio, Peerby, TrashNothing, and Freecycle.
Conclusion
These are fun ways you can use to recycle your old coffee cups. If you can't seem to find an idea that appeals to you, there is always the thrift shop.
These shops always look for old cutlery and crockery for their customers who appreciate antiques. Give them what you don't like, and they will find a new owner for them.
Recycling facilities also accept all types of crockery where you can take any old cups you cannot use in DIY projects at home.
You can see that there is so much you can do with old coffee cups. Try a few of these solutions the next time you have some old crockery to get rid of.
Also read: How to Recycle Coffee Cups