Flavored coffee is slowly becoming just as popular as black coffee in cafes. People are now looking for caffeinated beverages that don't have the bitter taste associated with coffees like Espresso.
These tasty coffee drinks are made with extracts from our favorite foods and beverages, such as fruits, nuts, liqueurs, berries, and candies. Some examples are blueberry coffee, butter pecan coffee, and Irish cream coffee.
Orange coffee is a flavored beverage currently trending in third-wave coffee shops.
It combines the flavors of two well-loved breakfast items. These are orange juice and black coffee.
You would think these two beverages have nothing in common and expect them to taste awful together, but they make a great combination. Some people think these items are too acidic and would make lousy coffee. Is that true?
Let's find out.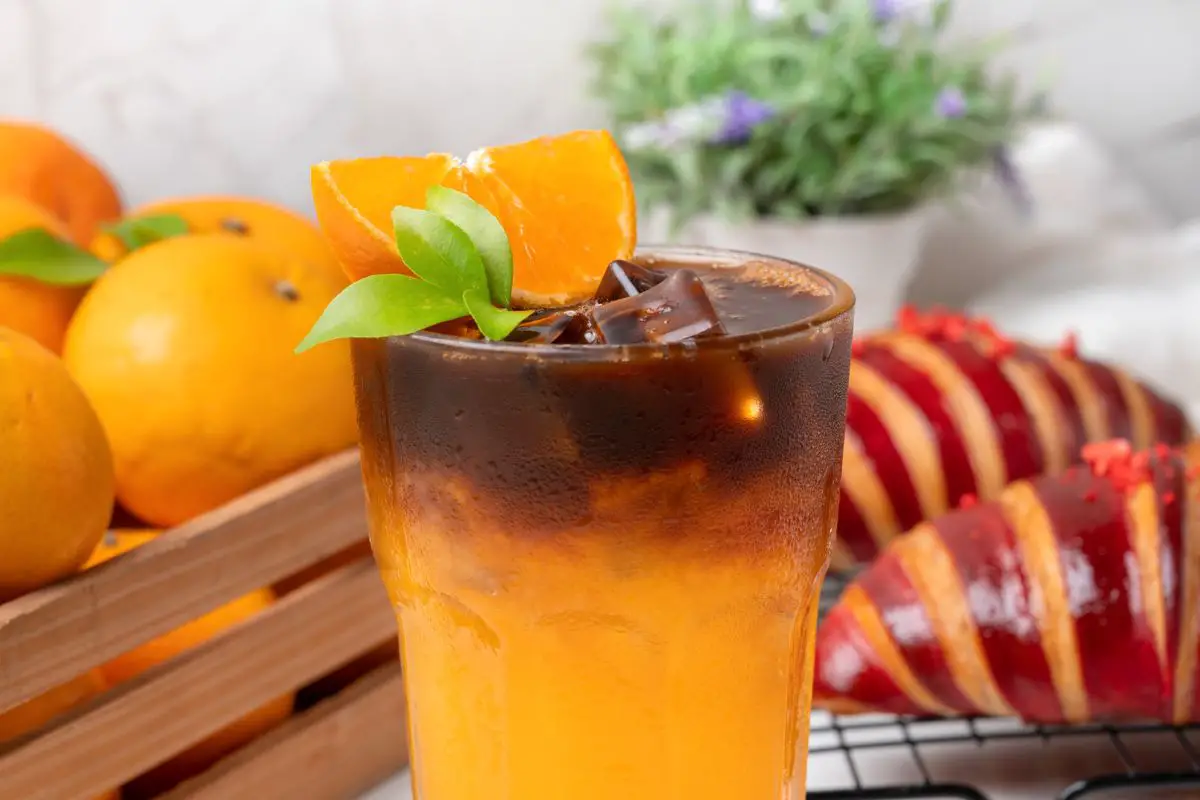 What is Orange Coffee?
Orange coffee is made by adding the extracts of an orange, its zest, or juice to black coffee. In some cases, all these items are combined in an orange coffee recipe to create a vitamin-filled cup of flavorful coffee.
If you are a coffee purist who sticks to plain coffee beverages, you may feel like mixing two drinks (that are known to be acidic) is too much.
People who avoid drinking too much coffee because it causes stomach discomfort may feel like mixing it with orange juice is a recipe for disaster.
Well, according to people who love experimenting with various coffee beverages, orange coffee tastes amazing!
Most orange coffee recipes require you to use Espresso, orange juice, and zest to make this interesting drink. When you add some brown sugar to these ingredients, you get a delicious brew that you can have at any time of the day.
The sweetness of the orange juice and the brown sugar used in these recipes balances out the coffee beautifully, creating a pleasant drink. The tangy flavor of citrus also gives orange coffee an interesting flavor that most people agree is quite addictive.
What are the Benefits of Taking Orange Coffee?
Orange coffee contains lots of vitamins and minerals. These are vitamin C, calcium, magnesium, and potassium. Drinking this coffee regularly will strengthen your bones, regulate your blood sugar, and lower your risks of suffering from heart ailments.
It's also packed with antioxidants that can prevent premature aging and enhance the appearance of your skin, nails, and hair.
Taking orange coffee is the best way to alleviate grogginess and clear your mind whenever you feel dull. It is also a great hangover killer that you should try the next time you overindulge in your favorite alcoholic drink, along with some eggs and bananas.
Some people add seltzer water to orange coffee making it a fun, fizzy drink you can have on a hot day. Its appearance also contributes to the drink's reputation as a summer favorite.
You'll find orange coffee referred to as the OJ Express, A Simple Sunrise, and  Good Morning coffee in lots of cafes. That's because it embodies all these attributes. Taking it is like sippin on sunshine, and it brightens up any morning.
And while some people fear orange coffee can damage the teeth, it doesn't. The acid in orange juice is not as harsh as that of lemons, which can even give you a stomach upset. Other ingredients added to the coffee, such as lots of sugar, reduce its potency, further creating a mildly flavored coffee beverage that's gentle on the stomach.
Where did the Idea to Make Orange Coffee Come From?
While it may seem like a new beverage, parts of oranges have been used to garnish coffee for quite some time. Espresso is often served with an orange or lemon peel on the side in Italy. Some people squeeze these peels over their coffee, while others drop them in to give their coffee a unique flavor and scent.
Since it was served in a cafe in Arizona in 2017, where it was referred to as SprOJ, orange coffee has gained popularity in states all over the US. While that orange coffee was served on ice, other versions of the coffee have come up since then. Examples are spiced orange and hot orange coffee, usually served with whipped cream.
The way that orange coffee looks also adds to its popularity. It's a pleasant beverage often served in tall glasses that creates a beautifully layered drink. The pop of orange color at the top and the chocolate brown hue at the bottom make it quite appealing.
If you know what a great combination oranges and chocolate make, you can see how amazing a cup of coffee brewed with espresso beans and some orange juice would taste. There are also those who drink it just for the aroma.
Here is a recipe for two types of orange coffee that you can try at home.
How to Make Regular Orange Coffee
Ingredients
Juice of 1 orange
A spoon of grated orange zest
A cup of hot black coffee
2 cups of water
1/2 cup brown sugar
3 Tbsp of whipping cream
Method
Mix the sugar and orange zest in a saucepan of water to create orange syrup.
Simmer the water and stir until all the sugar dissolves and the orange syrup becomes thick and aromatic.
Put off the stove, sieve the orange zest from the orange syrup, and set it aside in a cup.
Pour the hot coffee into a tall glass with the orange juice and lots of orange syrup.
Top it up with a generous amount of whipped cream.
Sprinkle some grated orange zest on top.
Enjoy your cup of orange coffee with some orange-flavored pastries.
You can also make a spicy version of orange coffee using cinnamon. Here's how.
Spicy Orange Coffee Recipe
Ingredients
2 Tbsp of ground medium-roast coffee
1 Tbsp grated orange zest
1/2 Tsp ground cinnamon/ 2 sticks of cinnamon
1/2 cup orange juice
1 Tbsp sugar
Whipped cream
Procedure
Scoop the coffee grounds, orange zest, cinnamon, and sugar into your coffee maker filter basket.
Pour water into the coffee maker and brew coffee as usual.
Serve the brewed orange coffee in a large coffee glass and add some orange juice to it. Avoid stirring it to create an attractive layer of juice and coffee.
Add a generous amount of whipped cream to the top of your coffee and garnish with some cinnamon powder.
Enjoy your nice tall glass of cinnamon-flavored orange coffee.
Conclusion
That's how to make orange coffee. As the love for coffee spreads worldwide, people are becoming more adventurous with their coffee choices.
Baristas are also coming up with great coffee combinations to provide consumers with various exciting beverages.
Many of these drinks are also quite healthy. If you love drinking orange juice and coffee from time to time, orange coffee is right up your alley.
It is also one of the healthiest combinations you can find on a coffee menu. Try brewing it at home, and tell us how it goes.
Also read: Can I Eat Fruits with Coffee