Coffee cocktails are some of the most ordered drinks in restaurants and coffee shops. People are now more adventurous with their coffee choices. That means dessert and flavored ice drinks are making more of an appearance on coffee shop menus.
Some popular coffee drinks you may have heard of are Frappuccinos and coffee coolers that are ideal for Summer and weekend relaxation.
While these are excellent beverages to have on hot days, we all crave a hot alcoholic coffee drink at times. That's where beverages like the Nutty Irishman coffee come in.
Like its interesting name, the Nutty Irishman is a fun drink made with an Irish theme in mind. You can have it after dinner and during festive occasions like St. Patrick's Day. This coffee drink has also inspired other culinary delights, such as Nutty Irishman cupcakes.
The nutty Irishman is characterized by a nutty, sweet, creamy flavor. It is often served in fancy coffee mugs with dollops of whipped cream and a sprinkling of nuts on top. Some people like it better with a garnish of chocolate chips or shavings on the whipped cream.
With that kind of description, you may feel like having a Nutty Irishman right now, but what would you require to make it? Let's find out.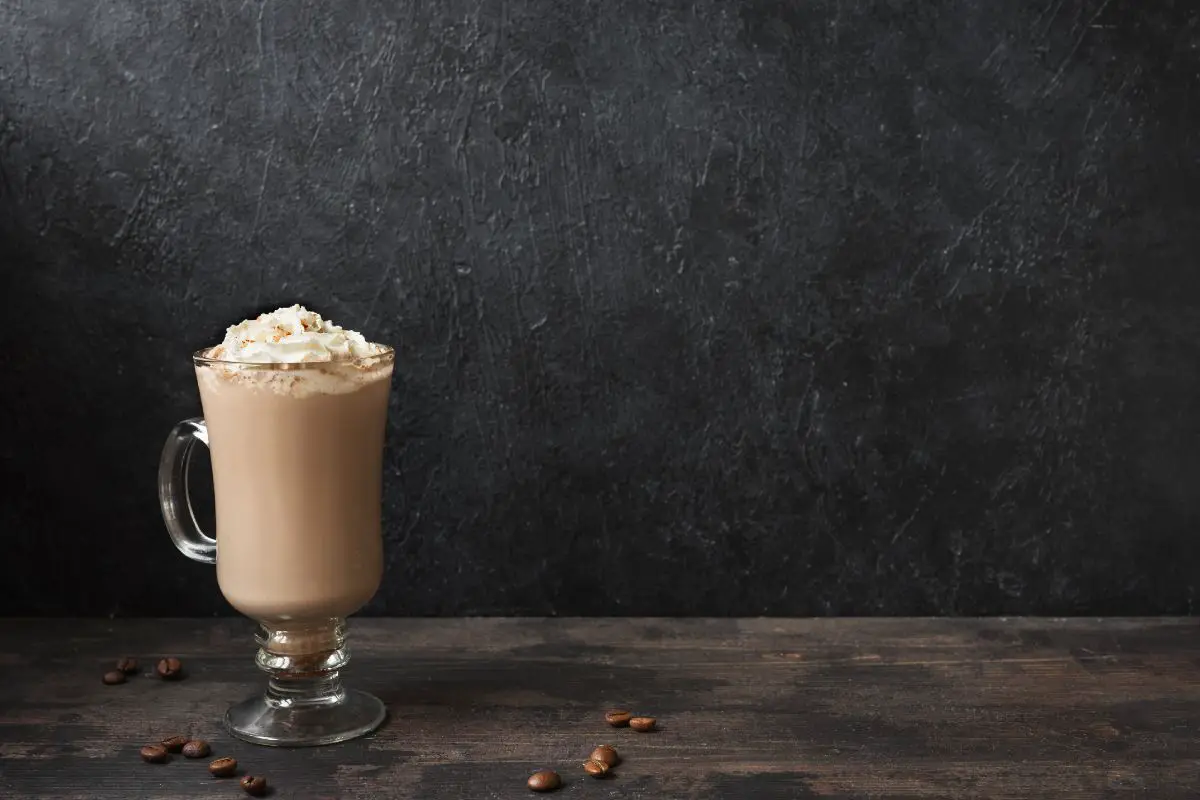 What is Used to Make the Nutty Irishman?
The Nutty Irishman is a coffee beverage inspired by the Nutty Irishman cocktail. It is made using liqueurs such as Baileys, Kahlua, Frangelico, and coffee.
Although some people add sugar to a mug of Nutty Irishman coffee, it is mainly taken without due to the sweet liqueurs used to make it. That doesn't stop people with a sweet tooth from adding syrups made of hazelnut, vanilla, or almond to it as a way to enhance the flavor or liqueurs used to make it.
The Nutty Irishman is more of a dessert drink than a breakfast coffee, whichever way you make it. A mug of it contains about 128 calories. So, it's a beverage you should only have on special occasions or during the weekend if you are watching your weight.
People who love this coffee cocktail take it for its hazelnut flavor, which is intensified by some syrups, as we've mentioned above.
If you love coffees such as butter pecan nut coffee, you'll appreciate the sweet, buttery, earthy flavor of Nutty Irishman coffee. Its taste intensifies the rich taste of coffee, especially if you use Espresso to make it.
Only people with a nut allergy or those who do not indulge in alcohol should avoid nutty Irishman coffee. Otherwise, it's a great coffee for anyone who likes to drink a unique coffee beverage.
You can only understand just how amazing a Nutty Irishman is by looking at its individual ingredients. Let's begin with Frangelico.
Many people have not heard of this alcoholic drink. What exactly is used to make it?
What is Frangelico?
Frangelico is a gold-colored liqueur made from vanilla beans, flavored cocoa, and hazelnuts. It is often served as a fragrant cordial or added to fancy coffees such as the Nutty Irishman as a digestive aid.
You'll often see Frangelico served after dinner in place of dessert. This amazing alcoholic drink is also added to coffee because of its pleasant nutty and hazelnut flavor.
Frangelico was first made 300 years ago by Christian monks who lived in a monastery in Piedmont, Italy. In fact, the rich hazelnut-flavored drink was named after one of these monks called, Father Angelico.
For this reason, you'll often find Frangelico added to Italian coffee cocktails. You'll also find it used in sweet desserts such as puddings and cakes.
When combined with Kahlúa, Frangelico gives a coffee beverage an unforgettable aroma and flavor. Why does Kahlúa flow so well with this liqueur? Let's find out by discovering what is used to make Kahlúa.
What is Kahlúa?
Kahlúa is a creamy, herbal coffee liqueur from Mexico that was first produced in 1936 and distributed in the USA in the 1970s. It's often used to prepare cocktails such as the White Russian, coffees like the Nutty Irishman, and desserts.
The ingredients used to make Kahlúa, such as coffee, corn syrup, rum, and vanilla, give it an unforgettable sweet flavor and rich texture. It's the perfect addition to any coffee cocktail.
Kahlúa is especially great for coffee beverages because the coffee in it is produced from Arabica coffee beans. Its intense coffee flavor gives any dessert coffee drink a unique and appealing taste, especially when combined with Irish cream.
What is Irish cream?
Irish cream is a form of cream liqueur made using Irish whiskey, sugar, and cream. It is characterized by notes of almonds and hazelnut.
And just like Kahlúa, Irish cream contains extracts from coffee beans that make it a perfect addition to any coffee cocktail. The inclusion of cream in this liquor makes Irish cream drinks such as Baileys deliciously smooth and rich.
When combined with Kahlúa and Frangelico, Irish cream gives Nutty Irishman coffee an unforgettable milky, rich, sweet, exciting taste.
Now that you know what is used to make the liqueurs in Nutty Irishman coffee, why don't you make some? Here is a recipe you can try.
Nutty Irishman Coffee recipe
Ingredients
A cup of hot black coffee
A shot of Bailey's Irish cream liqueur
A shot of Frangelico
A shot of Kahlúa
Lots of whipped cream
Procedure
Layer the above ingredients in a glass coffee mug, starting with the Irish liqueur, then Frangelico, and finishing with Kahlua.
Garnish your mug of Nutty Irishman coffee with whipped cream.
Sprinkle the coffee with cocoa, cinnamon, or crushed hazelnuts, depending on your preference.
Enjoy your mug of Nutty Irishman coffee with a cookie.
That's a Nutty Irishman coffee recipe you can try at home. If you like whisky, consider adding a shot to give your coffee a powerful kick.
There are also those who add heavy cream or half and half and ice to a Nutty Irishman to give it a delicious mouthfeel and lower the alcohol content.
You can serve this coffee in a cocktail glass during a fancy party or a tall coffee glass. It's an easy drink to layer, and you can create beautiful latte art on the whipped cream to make it more appealing.
These suggestions show that Nutty Irishman coffee is one of the best coffees to serve during social gatherings. Try it and see how it goes.
Conclusion
Although the Nutty Irishman is not the only alcoholic coffee cocktail you'll find on coffee menus, it is one of the best.
Most coffee beverages with Irish cream liqueur or Kahlua are quite popular these days. The Nutty Irishman is right up your alley if you enjoy drinking Irish coffee. Just be prepared for the alcohol used to make it.
Despite how addictive the Nutty Irishman is, it's not a beverage you should have every day. It definately comes in handy during special dinners or the festive season when most people let loose and have a little alcohol.
A good example is St. Patrick's Day when restaurants and coffee shops serve Irish drinks such as Good Luck charm coffees and Shamrock teas. Irish cream-inspired drinks such as the Nutty Irishman make a perfect addition to a list of such beverages.
We've given you a simple recipe to follow when making Nutty Irishman coffee. Why don't you have a mug of this fantastic drink and tell us how it compares to other coffee cocktails you've had before?
Also read: How to Make Irish Coffee