If you're a coffee-lover, this is a quick recipe you ought to try. Coffee cookies are a good accompaniment to your morning joe, dessert, and snack. The easy-to-make, sweet and delicious cookies will provide you with an energy boost you'll need for the day. Coffee cookies are chewy and perfect for dipping.
The few ingredients you will need to make the coffee cookies are things available in your home. This makes it a cheap recipe for you to try. This article provides the procedure you need to follow to make your delicious treat.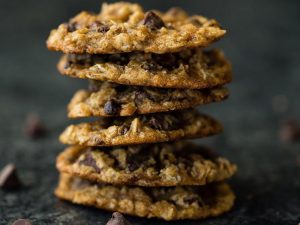 Let's begin with the ingredients that you'll require to make your coffee cookies.
Ingredients
1 1/2 cup all-purpose flour
An egg
A tablespoon of coffee powder
A teaspoon of baking soda
1/2 cup chocolate chips or chocolate chunks
115 grams unsalted butter
1/4 teaspoon salt
1/2 teaspoon vanilla extract
50 grams brown sugar
100 grams granulated sugar
A teaspoon of warm water
Bowl and whisk
Follow these steps to make your chocolate chip coffee cookies.
Preparation time: 15 minutes
Cook time: 10-15 minutes
Total time: 30 minutes
Steps
Heat your oven to 350 degrees.
Whisk the all-purpose flour, salt, and baking soda in a bowl. Set the mixture aside.
Dissolve the instant espresso coffee powder in warm water. Ensure it has completely dissolved.
Combine the granulated sugar, butter, vanilla extra, brown sugar, and egg.
Add the dissolved instant coffee mixture to the granulated sugar mixture.
Mix the two mixtures well.
Add the flour mixture to the granulated sugar mixture.
Combine the two mixtures well.
Add the chocolate chips to your dough and mix the dough well. If you're using the chocolate chunks, fold them in the dough.
Make some cookie balls and ensure you flatten them a bit.
Place the balls in your baking sheet and ensure that you separate them one inch apart.
Place the baking sheet in the oven and allow the cookies to bake for 10 to 15 minutes.
Remove the cookies once the edges are set and allow them to cool for about 5 minutes. If you want them cooled completely, give them about 20 minutes.
Enjoy your cookies.
How to Make Your Coffee Cookies Glaze
To give your coffee cookies a glaze you'll need:
1/2 teaspoon of instant espresso coffee powder
1/2 cup icing or powdered sugar
A tablespoon of water
Mix the three ingredients until they form a smooth mixture. Drizzle the mixture on the cooled coffee cookies.
How Do You Store Your Coffee Chocolate Chips Cookies?
Before you store your drizzled coffee cookies, allow the drizzle to set in the cookies completely. You can store your coffee cookies in an airtight container and consume them within five days. Ensure you place the container at room temperature.
If you want to eat freshly baked coffee cookies, you can store the dough balls in the freezer for up to 3 months and the fridge for five days. You can freshly bake your coffee cookies from the frozen balls. This is a quick method.
Coffee Cookie Nutrition Facts
These are the nutrition facts of one cookie.
Protein-3 grams
Carbohydrate-42 grams
Sodium-170 milligram
Potassium-150 milligram
Cholesterol-30 milligram
Sugars-30 grams
Saturated fat-7 grams
Bottom line
If the coffee cookies are soft after baking, leave them to cool.
They will be chewy after cooling. Be careful not to overcook the cookies.
If your dough turns out so soft, you can refrigerate it for some minutes to harden it.
You can choose to scoop the dough and pour it into your baking sheet instead of making the
cookie balls.
Also read: How to Make Coffee Creamer?