Drinking coffee is a favorite pastime for many people. Many of us enjoy sitting outside a cafe watching the world go by as we sip on our favorite cup of coffee.
A great thing about taking coffee is what we have with it. It could be sandwiches, cookies, or cake. The flavors in these treats amplify the pleasant taste of coffee.
What if you could have coffee in an edible cup like you do when eating an ice cream cone?
It's possible. There are edible cups you can buy for your coffee. These cups are referred to as cookie cups.
If you've never heard about them, here is some interesting information.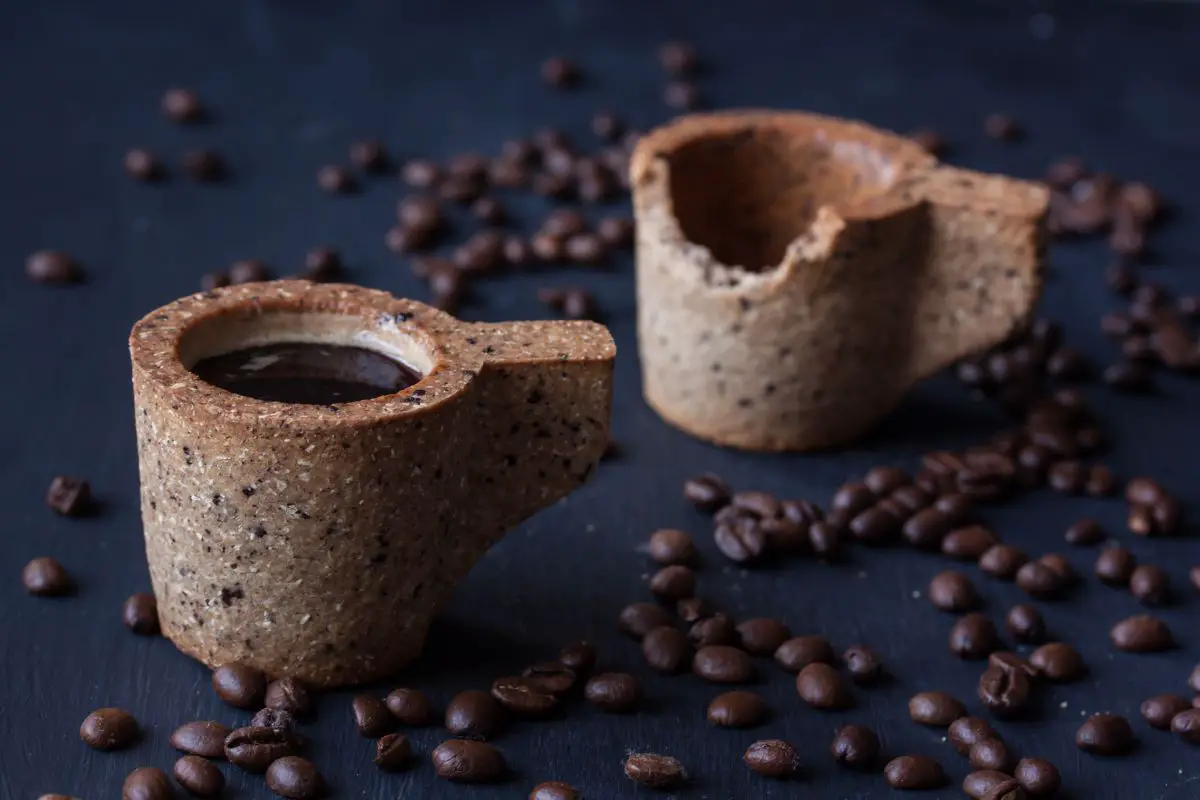 What are Cookie Cups for Coffee?
A cookie cup is a small edible cup you can drink coffee from that's made of rye, oats, or bran.
These edible cookie cups are strong enough to hold their integrity for up to 40 minutes which is the time it takes to drink a cup of coffee.
Imagine biting into a cookie cup as you sip on your coffee? Isn't that an exciting experience?
Edible coffee cups also appeal to people who prefer to use reusable coffee cups instead of plastic cups that are not biodegradable.
The idea behind making edible cups comes from the goal of reducing coffee waste in our environment. It is also an interesting way of consuming coffee.
Another similar biodegradable coffee item is edible rice straws.
Some of the edible cups you'll find in coffee shops are biscotti cookie cups made with dense shortbread, waffle cookie cups, and chocolate coffee cups lined with sugar.
These coffee cups are used to serve coffee beverages such as espresso, cappuccino, macchiato, and other popular coffee beverages.
Kids can also have some hot chocolate or milk in these cups. It's a fun experience that combines two of their favorite activities: eating cookies and sipping on a warm, comforting drink.
Making Cookie Cups at Home
You can buy edible cookie cups from the store in 8oz, 16oz, and 24oz sizes. You can also make them at home.
Here is a recipe for making cookie cups for coffee at home.
Ingredients
1 cup softened butter
1/3 cup of granulated sugar
1/2 cup of brown sugar
1/4 tsp salt
2 tsp vanilla extract
1 egg yolk
2 cups of sifted flour
100g dark chocolate
chopped almonds and chocolate sprinkles for garnish
Procedure
Mix the butter, brown sugar, granulated sugar, egg yolk, and vanilla extract in a bowl until well combined.
Add flour, and salt and knead until you get a firm dough.
Lightly dust your work surface with flour and roll out the dough to1/8 inch of thickness.
Cut out the dough into rectangles of 2 1/2 by 1 1/4 inches in size. Spray a 12-count muffin tin with cooking spray.
Wrap the pieces of dough inside the muffin tins, trimming off any excess dough over the ridges of the cups. Place the muffin tin into the refrigerator for 30 minutes.
Preheat the oven to 350°F and bake the cups for approximately 10 minutes.
Leave the cookie cups in the muffin baking tray for 10 minutes to cool down. Carefully slide the cookie cups off and set them aside.
Melt the dark chocolate in a double boiler by placing a heat-proof bowl over a pot of simmering water.
Once the mixture has reached 90°F, coat the cookie cups with the melted chocolate using a pastry brush.
Sprinkle some chocolate chips and chopped nuts over the melted chocolate around the cookie cup.
Place the cookie cups on a lined baking tray and keep them in the fridge for 20 minutes to give the chocolate a chance to set.
Once the chocolate has set, serve some shots of espresso, cappuccino, macchiato, or hot chocolate in the edible cookie cup with a bit of whipped cream.
Conclusion
Now you know how to make a cookie cup for coffee. It gives you an interesting way of drinking your coffee. You don't have to eat cookies from the side; you can now sip your coffee from them.
Cookie cups are easy to make at home. They are also nutritional and packed with fiber, vitamins, and minerals. Try this recipe and enjoy a new way of drinking hot delicious beverages at home.
Related article: