Colombia is among the largest coffee producers in the world. In fact, it is the third largest coffee producer, surpassed by Brazil and Vietnam. Most of the coffee beans grown in Colombia are high-quality Arabica beans. While these beans are considered the best, the plants can sometimes be fussy. Luckily, Colombia has the ideal growing environment and conditions for these beans.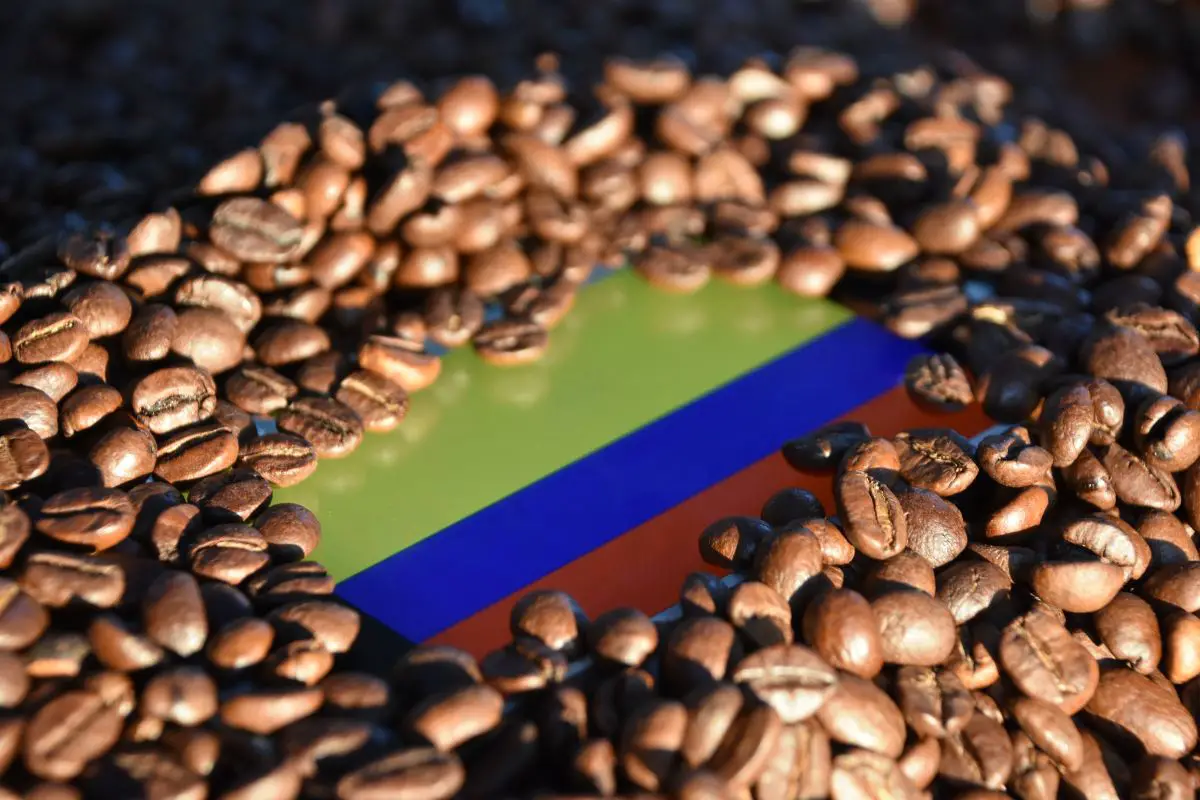 The slopes are steep and offer abundant rainfall as well as rich volcanic-ash soil. Additionally, the climate in Colombia is tropical with high altitudes that provide cooler temperatures. The country produces some of the best single-origin coffee beans due to its ideal growing conditions. If you're looking for a smooth and balanced cup of coffee, try 100% Colombian coffee beans. Usually, Colombian brews have a distinct aroma, balanced flavor, medium body, and sweet citrusy acidity. Here's a list of the 7 best Colombian coffee brands:
The 7 Best Colombian Coffee
    1. Volcanica Colombian Supremo
Volcanica Colombian Supremo coffee grows in the volcanic areas of the Colombian Andes (Central zone). After that, the coffee beans are imported to Atlanta, Georgia where they are roasted into a medium roast.
The Volcanica Colombian Supremo coffee has some unique Colombian flavors, a smooth body, and mellow acidity. The flavor profile of the coffee is sweet with nutty and fruity notes.
Volcanica supremo sells a variety of coffees including peaberry, single origin, estate, decaf, and flavored coffee. Although this coffee brand is pricey, it appeals to the environmentally-minded since its Rainforest Alliance, Fair Trade, and Organic certified.
Generally, Volcanica Colombian Supremo is among the best Colombian coffee that's available on the market.
Pros
Fairtrade certified
Rainforest Alliance Certified
Unique and smooth flavors
Nutty and fruity notes
Pleasant acidity
Cons
The taste can be overpowering
    2. Colombian Peaberry
Peaberry coffee is a rare variety of coffee. While most coffee seeds grow in pairs, peaberry coffee seeds grow as a single seed. Therefore, peaberry coffee beans make up about 5% of the harvest. These coffee beans are considered sweeter and with a pack of flavors.
The Volcanica Colombian Peaberry Coffee comes in a medium roast. In addition, Volcanica Colombian Peaberries are silky smooth with chocolate, cherry, malt, and walnut tones. The Colombian peaberry is also Fair Trade certified.
Pros
Kosher and Fairtrade certified
Floral and fruity notes
Full of flavors
Unique and developed aroma
Cons
    3. Juan Valdez Colombian Coffee
Juan Valdez is a coffee company based in Colombia that's named after the iconic Colombian coffee farmer. Juan Valdez is known to most people as the face of Colombian coffee.
The Juan Valdez Organic Coffee is a medium roast with a rich flavor profile and strong aroma that will get you up and moving in the morning. Equally important, the coffee has a mild acidity and bitterness, thus a perfect mellow breakfast blend.
Pros
Organic certified
Fairtrade certified
Medium roast
Pleasant acidity
Rich flavor and strong aroma
Cons
4. Koffee Kult Colombia Huila
Koffee Kult Colombia Huila coffee beans are sourced from the Southern zone (Huila region of Colombia) and are grown in high altitudes. These coffee beans are medium roasted in Southern Florida and in small batches. Koffee Kult coffee has a smooth flavor and heavy body with a smooth and bright finish. The flavor profile of Koffee Kult Colombia Huila is bright with cinnamon and chocolate hints.
Apart from bringing their consumers excellent coffee, Koffee Kult pays their workers fair wages and demands that the coffee growers work to protect their environment. If you're looking for a versatile coffee that serves as a morning drink and that also makes espresso, try Koffee Kult Colombia coffee. Although pricey, the coffee comes with a money-back guarantee in case it doesn't suit your preferences.
Pros
Bold aroma
Money-back guarantee
Smooth flavor
Versatile coffee
Cons
    5. Blackwelder Colombian Coffee
Blackwelder Colombian coffee company is a family-owned business in Southern California. The coffee is single-origin and medium-dark roasted with deep chocolate notes. In addition, Blackwelder Colombian coffee has a sweet aroma and a nutty taste with vanilla hints. This coffee is a great breakfast brew since it has a balanced body and acidity. If you're a coffee lover who desires bold and strong flavor with an extra twist, this coffee may not meet your expectations.
Pros
Balanced acidity
Sweet aroma
Rich flavor
Cons
Slightly expensive
Too mild
    6. Java Planet Colombian Coffee
Java Planet Colombian coffee is dedicated to producing good-tasting coffee for its consumers. This coffee is single origin and USDA organic certified. In addition, Java Planet Colombian coffee is dark roasted with a full body, low acidity, dark roast flavors, chocolate, and nutty tones.
The coffee beans used by Java Planet Colombian are 100% organic Arabica coffee beans. The coffee company also carries a Rainforest Alliance certificate, Fair Trade, and Bird Friendly certificate to ensure sustainability.
Pros
USDA Organic, Fair Trade, Rainforest Alliance, and Bird Friendly certification
Low acidity thus stomach-friendly
Full body
Fruity flavors
Cons
Big batch roasting can lead to the loss of unique flavors
    7. Cooper's Cask Dark Roast
The Cooper's Cask Colombian Coffee is single-origin beans that are dark roasted and aromatic with fruity and chocolate notes. In addition, the coffee has low acidity, a sweet aroma, and a cocoa-toned finish.
If you're a lover of dark roasts, Cooper's Cask Colombian coffee will suit you. The coffee brand also has a Fair Trade certificate.
Pros
Fair Trade certified
Low acidity
Strong flavor
Fruity notes
Dark and aromatic
Cons
It May be too dark and bitter
Factors to Consider When Buying the Best Colombian Coffee (Buying Guide)
Here are some factors to consider when buying the best Colombian coffee:
Origin
The origin or specific region where the coffee is grown determines the taste of your coffee. Therefore, understanding the different coffee-growing regions in Colombia and how they affect the taste of your coffee will help you buy the best coffee. You'll find that different regions in Colombia have different altitudes, wet and dry seasons, temperatures, and harvest times. In addition, you'll find that the higher the altitude of a specific region, the tastier the coffee. Therefore, before buying the best Colombian coffee, it's important that you research the geography of Colombia and choose the coffee that suits your taste and preferences.
Type of Roast
The type of roast also determines the flavor of your coffee. There are three main types of roasts. These are light roast, medium roast, and dark roast. A light roast has a mild flavor, while a dark roast has a strong flavor. On the other hand, a medium roast is a variation between light and dark roast. Neither too mild, nor too strong. With this in mind, you can choose the type of Colombian coffee roast that suits you. Generally, Colombian coffee is popular for its sweet taste, stronger acidity, and lower caffeine content.
Ground Coffee or Whole Bean
The choice of buying ground coffee or whole beans depends on your preferences. However, keep in mind that ground coffee reacts with oxygen leading to loss of flavor fast. Therefore, it's better to buy whole coffee beans and grind them when you're ready to brew your coffee. This way, you'll enjoy a fresh cup of coffee full of flavors every day.
Company Ethics
The National Federation of coffee growers in Colombia was established in 1927 to protect the rights and interests of coffee growers both internationally and nationally. This organization ensures that coffee is grown sustainably and that growers improve their lives. Many coffee companies that offer sustainable coffee have certificates such as Fair Trade, Rainforest Alliance, Bird friendly, and Organic. Therefore, if you're looking to buy sustainable coffee, check out brands with these certificates on the coffee bag label.
Conclusion
Buying coffee can be challenging especially with the many brands available on the market. Therefore, if you're looking for the best Colombian coffee, this list will guide you. Additionally, if you have no idea what you're looking for, you can use the buying guide to help you choose the best Colombian coffee.