Coffee-Prices.com is happy to announce the recent acquisition of GetJavaya.com.
About Javaya
Hi, welcome to Javaya! Javaya was founded by a couple of Chicago guys who dug local craft coffee. They met in school (Go Irish!) and stumbled upon a mutual love for discovering and brewing fresh, locally roasted coffees in the comfort of their homes.
While Chicago has some of the best local coffee roasters in the world, enjoying all their faves either meant driving around to every coffee shop in town or settling for less-than-fresh beans bought online. No bueno. There had to be a better way…
Enter: Javaya.
With Javaya, they brought all your favorite craft roasters from around the country to your fingertips—without losing anything you love about them. They let you explore a huge range of high-quality, locally roasted coffee. And the best part? It was stupid fresh. (Seriously, it's insane.)
Freshness, assortment, choice, quality. It's what they value most about the local craft coffee scene, and it's what Javaya was all about. Cheers!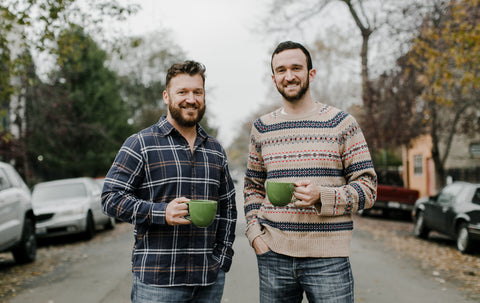 Javaya Motto:
"Coffee that's ready when you are.
A curated selection of exceptional coffee. Tasty and oh so fresh.
Let's find the perfect roast for you."
This is How It Used to Work
 Browse artisan beans from the best roasters in the country.
We guarantee you'll love whichever coffee you choose. And on the off-chance you don't? We offer hassle-free refunds.
 Each bag of coffee we sell has a Future Fresh date.
This is the exact day in the future when your beans will be small-batch roasted, packaged and shipped to you by our partner roasters.
 Your coffee ships, for free, on the day it was roasted.
Your beans arrive just as they're hitting peak flavor.
Javaya FAQ
What was Javaya?
Javaya (getjavaya.com) was an online marketplace where you could buy the best local craft coffee from the best roasters in the US and have it shipped directly to your doorstep at peak freshness. Javaya selected roasters based on a rigorous review process, which ensured that you were getting only the highest quality coffee from the coolest people around.
Who Made The Coffee?
Javaya is not a coffee roaster. They simply search for the best local craft coffee roasters from around the country and make their product available to you, wherever you are, at peak freshness. All of our roasters have passed our rigorous review process, ensuring you're only getting the highest quality coffee from the best artisans.
Where Does The Coffee Come From?
Before coffee beans are roasted, they're called green beans. These green beans are grown on farms around the world, mostly in the "coffee belt," which straddles the equator and typically boasts a high altitude. Coffee growing is becoming a global trade, but right now, a lot of the world's coffee is grown in Africa, South America, and certain islands in the Caribbean — each region having its own unique flavors.
Every roaster in the US sources their green beans slightly differently. However, they all have one thing in common: Quality. Craft roasters are obsessive about their green beans and if the quality of the bean or roast isn't up to their strict standards, they will trash the entire batch and lose hundreds or thousands of dollars in inventory, just to ensure they don't earn a reputation for making bad coffee. That's just one of the reasons you should love craft coffee, and Javaya roasters.
How Did Your Coffee Get To You?
Your coffee would be roasted, packaged and shipped to you, direct from the roaster themselves. This all happened on the same day, often within mere hours. No middleman or warehouses involved. Just crazy-fresh coffee arriving on your doorstep mere days after roasting (depending on the shipping method you select) — because #freshnessmatters.
How to Pronounce Javaya?
juh-VI-uh, like "Mariah," but they loved hearing all the alternative pronunciations. Just as long as you can say "craft coffee, fresher than fresh," then you know what they're about!
Why Does Freshness Matter?
Without getting too nerdy, excellent craft coffee is best enjoyed within a few weeks of roasting. After a few months, craft coffee is still good for a lot of things — but making a cup of coffee just isn't one of them.
What Do You Mean "Fresher Than Fresh"?
This varies from coffee-to-coffee, but in general, the pros recommend that you wait to enjoy a light roast coffee until 3 days after roasting (for espresso roasts, they recommend waiting a full 7 days). With Javaya's direct shipping model, there's good chance you're going to receive coffee that is fresher than fresh—that is, you need to wait to enjoy it. They also apologized in advance for any inconvenience this may have caused 😉
How Did Javaya Work?
They partnered exclusively with the highest-quality craft roasters around the country to offer you the freshest coffee possible. When you buy a bag of coffee from them, you aren't buying something that's been collecting dust on a shelf in a warehouse somewhere. You're actually buying a future-bag of coffee — small-batch craft coffee that would be roasted, packaged and shipped to you direct from the roaster just for you. It's the only way coffee should be bought online.
What is a Future Fresh® Date?
Future Fresh® Date was the day in the future when your purchased craft coffee will be roasted, packaged and shipped to you, direct from the roaster.
Because craft coffee is small batch roasted, it typically doesn't get roasted every day. They don't guarantee delivery dates, but most coffee roasters fulfilled Javaya orders a couple of times per week (and no less than once per week).
How Much Did It Cost?
Coffees started at about $1 per ounce, or $12 for a 12oz. bag. They have negotiated the best shipping prices in the country, so you always received the best price available online. Want to save even more? You could subscribe to a recurring coffee delivery and save 5% off the retail price.
Was I Locked In?
No. Never. Ever.
They believed in earning your loyalty by consistently delivering high-quality, fresh coffee. They wanted you to have the power to choose what coffee you buy, and for that reason, the purchase decision was always up to you.
You May Also Be Interested In:

An Introduction to Specialty Coffee