Do you know what a pink drink is?
A pink drink is a drink made with Strawberry acai refresher which is a base with green coffee extract, and frozen-dried strawberries with coconut milk in place of water to create the shade of pink, and then topped with chunks of fresh strawberries.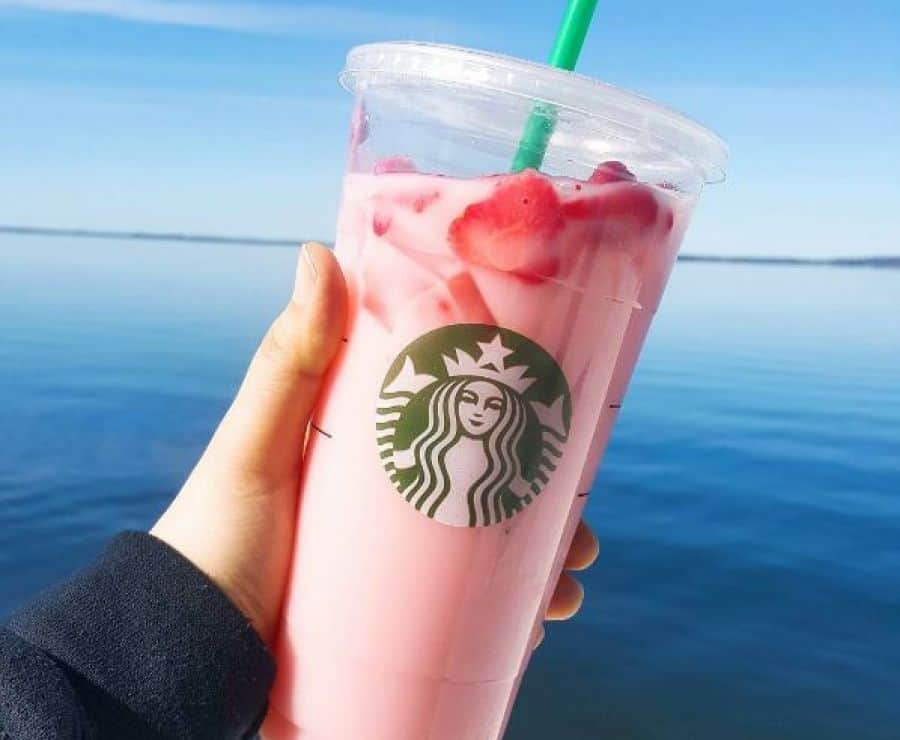 It has some accents of passion fruit. The drink started as an item on the secret menu but got popular after some Instagram posts and became an official beverage on the Starbucks 'cold drinks' menu.
The Starbucks pink drink contains a small amount of caffeine due to the addition of green coffee extracts which are made by soaking the coffee beans and boiling them raw and unroasted. It contains very little caffeine as compared to coffee that is brewed regularly.
How Much Caffeine is in a Cup of Starbucks Pink Drink?
A pink drink contains 2.81 ml of caffeine per fl oz (9.51 mg per 100 ml). A Grande drink contains 140 calories. The amount of caffeine contained in a Grande of size 16 fl oz or 473 ml is 45 mg, 35 mg in a Tall of size 12 fl oz, 70 mg in a Venti of size 24 fl oz, and 90 mg in a Trenta of size 30 fl oz. The caffeine strength in a Grande is moderate and increases with an increase in the size of the drink.
Is the Starbucks Pink Drink a Healthy Choice?
If you were to order a sixteen-ounce Grande pink drink made with coconut milk, you'd be consuming 24 grams of sugar and gaining a hundred and forty calories. It has been recommended to limit your added sugar consumption to ten percent of your daily calory intake. Assuming, you consume 2,500 calories per day, your recommended added sugar intake is less than 2.5 grams. Taking note of that, A Grande pink drink has up to 24 grams of added sugar besides your daily calory intake, which is not a healthy choice. But it's not entirely bad in comparison to a Grande mocha cookie crumble Frappuccino which contains four hundred and seventy calories and about fifty-seven grams of sugar!
Can You Make Pink Drink at Home?
The answer is Yes! You can make a pink drink at home if you have all the ingredients required in making it like; fresh strawberries or freeze-dried strawberries, a pack of acai extract, sugar, acai green tea/berry tea, grape juice, coconut milk, and ice.
Firstly, brew a strong cup of coffee and let it cool then place it in a blender. Next, you add the fresh or freeze-dried strawberries, acai extract, a little bit of sugar, and some ice. Blend till it's smooth and pour into two glasses containing coconut milk and mix. Add some sliced fresh strawberries. And there you have it! It's as simple as that. Your very own homemade pink drink.
You can also make a decaf pink drink by omitting the pack of green coffee extract for a more healthy choice though you might exclude some flavor because it is earthy, grassy, and a little bit sweet, it would still taste great all the same.
In Conclusion
The pink drink is a very popular, tasty, and attractive-looking drink, suitable for anyone with a sweet tooth. It does contain caffeine of about 45 ml which is not entirely harmful for consumption and can also be made in the comfort of your home.