Billions of people around the world can't start their day without their favorite brew of coffee, most of which they paid for premium. Yet, millions of coffee farmers in the developing world are unable to make a reliable living from this valuable crop.
Small coffee plant holders produce 70-80 percent of coffee around the world. To see them compensated a fair price for their produce, fair trade is deemed essential.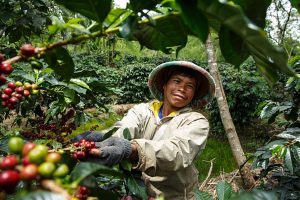 This term 'fair trade coffee' may be new to you, but don't worry. We'll look in-depth at what it means, why it matters, and what impact it has on these impoverished communities. From there, you'll be in a better position to choose if or not to drink fair trade coffee for your daily brew.
What is Fair Trade Coffee?
Fair trade defines trade standards that ensure fair commercial operations and accountability in trading, agriculture, and manufacturing. Fair trade coffee is coffee produced following fair trade standards and is certified by fair trade organizations. These organizations allow for operation and partnerships based on dialogue, transparency, and respect in line with achieving equality in the international coffee trade.
While fair trade aims at ensuring these standards in markets throughout the globe, its special focus is on marginalized areas in the Pacific, Middle East, Asia, Latin America, and Africa.
These partnerships were birthed as a solution to the previously unstructured coffee trading system where for centuries, coffee farmers and workers were exploited by powerful interests.
Many farmers did not receive fair prices for their produce and the workers' working conditions were poor—unfair wages, denied labor, and poor health and safety standards. The main aim of fair trade is to offer fair trading terms and contribute to sustainable development for coffee farmers and communities in the world.
Here's how the fair trade coffee system operates. Coffee growers of the select cooperative producer groups take their coffee and are paid a minimum price per pound for all coffee sold through fair trade channels. The price acts as the price floor for fair trade growers.
If the market price is higher than this price floor, they get compensated at the market price and other premiums. Fair trade comes with stability as the farmers are assured of the market price not falling below the set minimum price.
Direct Trade Coffee
Anyone opposed to fair trade sees direct trade as more sustainable. Direct trade is the approach where a coffee buyer partners with several coffee farmers to offer a higher coffee price in exchange for higher-quality products and (often) long-term relationships.
Although riskier and less stable, direct trade creates more value making it more efficient to transmitting resources from coffee drinkers and growers. Most organic coffee will often be grown through a direct partnership as the monetary benefits are transmitted to the farmers.
Principles of Fair Trade Coffee
The fair trade badge ensures:
Fair coffee prices
The third-party organizations set fair prices for coffee harvests with premiums earmarked for community development projects. Higher premiums are given for certified organic products. Fair trade offers a minimum purchase price to protect the farmers from the volatile global coffee prices. For instance, the standard price for Arabica unroasted coffee is $1.40 per pound, and certified organic coffee is $1.70 per pound. Farmers are also eligible for a $0.20 premium to invest in producer cooperatives and the local community.
Environmental sustainability
In the fair trade system, more than just about getting the dollar. The standards focus is on minimizing the environmental impact of farming coffee. In favor of environmentally sustainable farming, the use of certain elements such as agrochemicals is prohibited. This not only protects the environment but the health of farmers, ecosystems, land, and wildlife.
Protect children rights and support safe working conditions
Working in a fair trade farm ensures the individual safe working conditions and freedom of association. Fair trade organizations also prohibit forced child labor.
Ensure income sustainability and fight against poverty
Fair trade standards aim to fight for income sustainability and eliminating global poverty. The effects are felt beyond the cooperatives to the people growing and picking the beans and the community. This ensures justice in the trade that eliminates middlemen and brokers who would be in the trade to take advantage of farmers. Through its community work, fair trade builds equitable partnerships between producers and purchasers.
Is Fair Trade Doing Any Good?
In theory, the standards of fair trade sound great. However, the actual impact on the community is mixed. There are negligible effects of the standards on coffee growers, especially in poor countries. This may be brought about by the ill-conceived design of the fair trade system.
While the fair trade coffee system is well-intentioned and sounds wonderful, critics have questioned its effectiveness in accounting for the basic principle it works towards. Studies show the possibility of the system undercutting the benefits to coffee growers.
Here's the thing; to join a democratically managed cooperative, farmers pay to become certified. They agree to the coffee-growing standards for pesticides and chemical fertilizer and agree to pay "fair wages" to workers. Paying for fair trade certification at $0.03 per pound limits the long-term benefit for the farmer.
Besides, fair trade is purported to attract low-quality beans. With the price cap for the low-quality bean being $1.40, the system incentivizes farmers to sell their low-quality beans at fair trade cooperatives and their high-quality beans to direct buyers. Also, while the restrictions on fertilizers enhance the environmental impact, it limits yields and increases costs, which mitigate the benefits of fair trade. Again, there's little documentation to show how cooperatives spend the $0.20 premium.
So, is the fair trade coffee system doing any good? Yes, the system is well-intentioned at its core and does help in equalizing the minimum price payouts. However, more evidence is needed to affirm the system's effectiveness in addressing the root of poverty in impoverished countries.
You may also be asking these questions:
Is Fair Trade Coffee Organic?
One of the major misconceptions about fair trade is that it's organic. While one of the principles of fair trade coffee is environmental sustainability, a fair trade badge does not mean that the coffee is organically grown. Organic production isn't one of the policies of fair trade coffee. To get a sustainable coffee brand, look for the USDA Organic certification label.
Is Your Favorite Coffee Brand Fair Trade?
Now that you know what fair trade means, how do you know if your favorite coffee brand is fair trade? Just check for the fair trade label on your bag of coffee beans. Purchasing fair trade coffee will help you support the beautiful initiative at its core. You'll be making a positive difference in coffee farmers and workers helping them make a fair living while enjoying your favorite Cup of Joe.
Should You Buy Fair Trade Certified Coffee?
Whether to buy fair trade certified coffee or not is really a personal choice. Through the system, you may take part in something meaningful and help poor families earn a living. However, if you're looking to enjoy high-quality coffee brew directly obtained from individual farmers and organizations, fair trade coffee may not be for you. Enjoy your choice of coffee without worrying whether it's fair trade or not. Perhaps, if you're still looking to make a meaningful impact on these countries and people, find another way that actually has a positive impact on the beneficiaries—such as providing water to rural villages.
Related Articles