Coffee is one of the most consumed beverages in the world. Many of us flock to cafes every day to get our caffeine fix.
You probably have a favorite coffee shop that you go to where they make rich, flavorful coffee.
Once in a while, you may ask yourself, what coffee machine or coffee beans do they use to make this amazing brew?
That usually happens because we want to replicate that same brew at home. After all, you can't buy coffee from your favorite cafe all the time.
Two reasons for this are; the coffee shop may be far off, or you could prefer to prepare coffee at home to save money.
There are also those who prefer to make coffee at home to have as much of it as they would like.
Still, nothing beats the feeling of ordering and getting your coffee just as you like it from your favorite cafe in minutes.
Many of us also appreciate the complementary coffees we get from grocery stores, restaurants, and bars for patronizing them.
One of the establishments that has built a reputation over the years for giving customers excellent free coffee is Waitrose.
You'll often hear complaints of shoppers getting coffee from Waitrose grocery stores through trickery because it's so good. It's one of the best things about shopping at the store.
Why is their coffee so amazing? Let's find out by answering the question: what coffee machine do Waitrose use?
A good place to start is by learning a little bit about this fantastic store.
You'll appreciate this information if you've never shopped at the store and are only learning of their amazing free coffee offer now.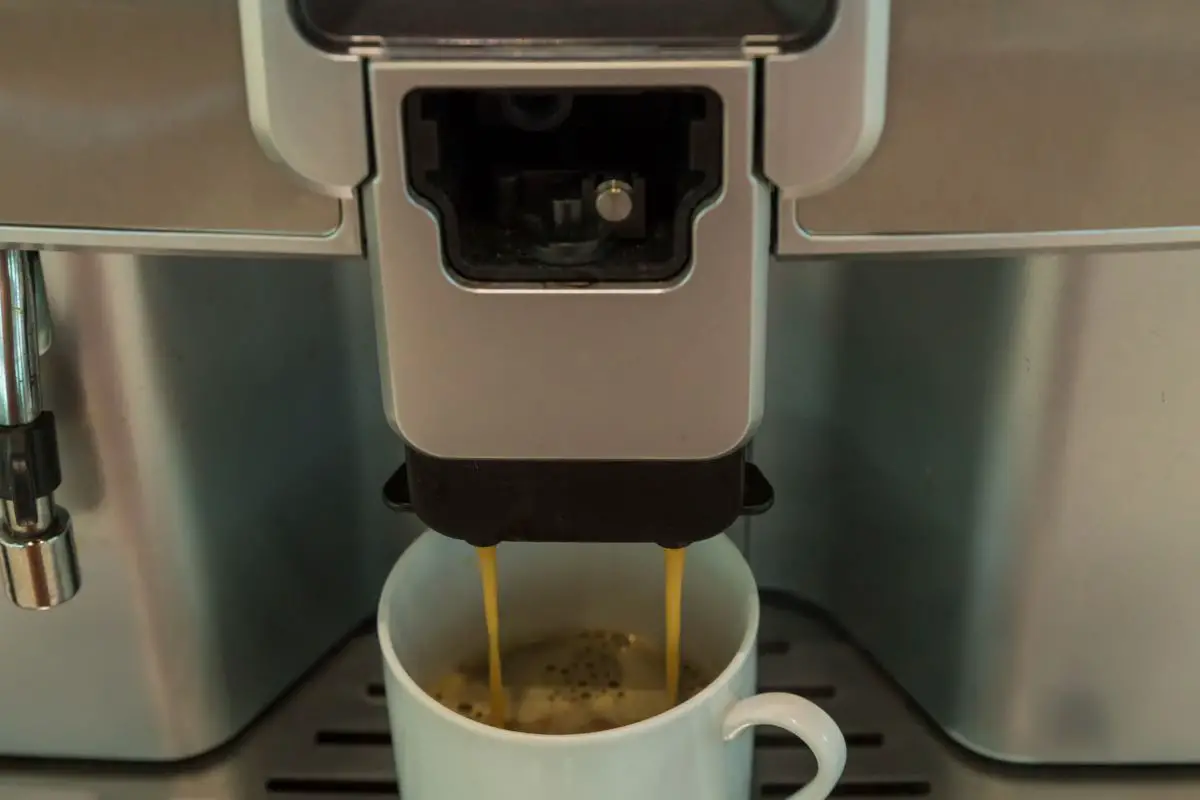 What is Waitrose?
Waitrose & Partners is a chain of British supermarkets whose head offices are in Victoria and Bracknell.
It is highly ranked on the list of respected grocery store chains in the UK, in line with other popular stores such as Sainsbury, Asda, Tesco, and Aldi.
Customers shop at Waitrose not only for their complimentary coffee but because of its reputation for cleanliness, unique layouts, affordable goods, and discounted offers.
Waitrose is especially loved by some royal family members, such as Kate Middleton. That support has been evident for years, with the Royal family often giving the store contracts to supply its homes with cleaning supplies and groceries.
An example is a royal warrant issued to Waitrose by King George V in the 1920s for the supply of cleaning supplies and groceries. King Charles has also partnered with the store in his charity programs.
Today, Waitrose holds a royal warrant for supplying spirits, wine, and groceries to the Queen. Where did this success come from?
The History of Waitrose's Success
Waitrose was founded as a small grocery in 1904 by David Taylor, Wallace Waite, and Arthur Rose in West London. At that time, it was referred to as Waite, Rose & Taylor.
In 1937 the John Lewis Partnership changed the grocery chain's name to simply Waitrose after taking over its ten shops.
The company started the process of establishing itself as a supermarket giant in 1955 when it opened its first supermarket in Streatham.
At present, Waitrose has over 300 shops located across the UK in places like Hampshire, Essex, Truro, Bedfordshire, Cambridgeshire, and Cornwall.
These are a mix of grocery shops and convenience stores known for selling the freshest organic groceries in the UK. They also offer customers great discounts and, of course, freebies such as their famous free coffee.
The tradition of giving customers complimentary items for shopping was launched in Waitrose as a way to reward shoppers in 2011.
That was after store managers discovered customers preferred to get free items for their shopping instead of loading loyalty points on their myWaitrose loyalty cards or apps.
In 2013, the grocery store chain introduced a free coffee offer to attract shoppers.
The store revised the conditions for getting free coffee in 2017 by making it mandatory for customers to shop before getting a free coffee.
They had to scan or swipe their loyalty card or phone at the self-service coffee machines after shopping to qualify for a free coffee.
Despite its success, the myWaitrose loyalty program has encountered some hiccups, some of which led to its temporary withdrawal.
Of note is the incident in 2018 when Waitrose stopped offering free drinks to customers after some shoppers complained they attracted a bad crowd.
The supermarket also decided to phase out disposable coffee cups to reduce their contribution to the waste in landfills.
While it was an environmentally friendly decision, some critics feel it also contributed to the temporary withdrawal of Waitrose's free hot drinks program.
Perhaps the grocery store's biggest challenge was the Covid pandemic which saw them completely withdraw some of their discounted offers and freebies.
The good news is that Waitrose loyalty program members can again benefit from their free cup of coffee from 7th November 2022. The supermarket will relaunch its free coffee drinks program in partnership with Caffé Nero.
Shoppers only have to bring their own cups or pay 4 pounds for a reusable one as the store continues to phase out the use of disposable cups in their establishments.
If you enjoy shopping at Waitrose and have missed the free coffee you used to get there, you now have a rewarding cup of coffee to look forward to after shopping.
Customers can choose between three coffee options when getting their free coffee. These are: Latte, Cappuccino, and Americano. The coffee comes with other freebies, such as an option to use milk alternatives like oat milk for free.
Waitrose's free coffee for shoppers will be served from its array of self-service automatic coffee machines that are used in all its stores.
That's where you can swipe your loyalty card or Waitrose app whenever you need to get a coffee after shopping at the store.
So if you've been wondering, "What coffee machine do Waitrose use?" A self-service coffee machine is the answer. It is the best coffee-making machine to use in restaurants, cafes, offices, or bars.
What is a Self-Service Automatic Coffee Machine?
Anyone who loves coffee appreciates coffee machines that can prepare high-quality coffee in minutes. That's why you'll find people flocking to the self-service coffee machines in gas stations, hospitals, and grocery stores such as Waitrose.
Self-service coffee machines, also known as vending machines, differ in terms of quality. Some will only brew muddy coffee, which most of us are forced to take until we can brew some good coffee at home.
Any coffee drinker who enjoys a quality brew steers away from such self-service machines and chooses those that brew excellent coffee beverages.
An example is coffee machines like those at Waitrose that brew different coffees and allow you to add the flavorings and milk options you desire.
It's good to note that the coffee beans that Waitrose uses to brew complimentary coffee also contribute to its great taste. These beans are sourced from the range of coffee beans they stock at the store. Some examples are;
Italian Continental dark roast blend made from South American, African, and Indonesian Arabica beans
Colombian, decaffeinated, medium roast blend made from Colombian Arabica beans.
Full roast organic Espresso coffee beans made from Arabica coffee beans
Once the free coffee offer relaunches in Waitrose, customers can expect it to be brewed using coffee beans from the Nero Roasting Company.
The star of the program will be the self – service coffee machines they have always used at Waitrose. You should get one if you own a cafe, restaurant, or bar.
Benefits of Using a Self-Service Automatic Coffee Machine 
Making coffee with an automatic coffee machine is as easy as pressing buttons to choose your coffee preferences.
Some, like those at Waitrose, can brew 2 or 3 types of coffee at a go in record time which is convenient for a busy eatery.
Using an automatic self-service machine in your establishment will reduce your staff expenditure significantly. That's because you don't have to get the best baristas or servers to brew great coffee for your customers.
Automatic coffee machines also give you control over the kind of coffee you brew, and the best ones come with all the features you require in an excellent coffee maker.
They allow you to specify the number of coffees you want, the brewing time, and whether to add creamer, sugar, or flavorings.
You can manage your coffee budget better by using an automatic coffee maker as compared to when you manually prepare coffee.
Since these coffee machines grind fresh coffee beans for every batch of coffee, you get the most flavorful brew. They are also self-cleaning, making it easier for you to maintain them.
An excellent example of popular automatic coffee-making machines is the De'Longhi range of automatic coffee makers.
Conclusion
Now you know what coffee machine they use at Waitrose. Be sure to shop at the store and grab a free coffee from their self-service machines once they relaunch their free coffee program from 7th November.
A self-service coffee machine is the best option if you've been looking for a coffee machine for your coffee shop, bar, or restaurant. You can be sure it will serve you well like it does establishments like Waitrose.
You can also get a self-service automatic coffee maker for your home to ease the process of coffee brewing for family members on busy mornings.
It is also a great machine to have in an office where coffee is always in demand and staff crave quality coffee.