Hello coffee explorer! Today we are going to Vienna! Are you visiting Vienna for the first or you didn't visit any coffee house the last time you came? Coffee is a universal drink; your location shouldn't restrict you from taking your daily Joe. However, when you are in Rome you should behave like a roman.
When you are in Vienna you should order coffee like a Viennese. As your guide, I will be enlightening you on the types of coffee available in Viennese coffee houses and how to order coffee in Vienna like a local without embarrassing yourself.
Vienna Coffee House History
Vienna coffee houses are renowned for their unparalleled coffee house traditions. Although the first coffee house in history is not in Vienna, Viennese coffee houses are famous for their unique culture.
There is a link between the history of Viennese coffee house culture and the end of the Siege of Vienna in 1683. According to history, the first person to get a license to serve coffee in the city was a Viennese citizen named Georg Franz Kolschitzky due to the heroic actions he displayed during the Siege of Vienna. Coffee beans left behind by the Turks were the secret of his success.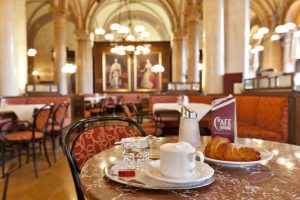 However, an Armenian spy, Diodato, was the first to establish a coffee house in Vienna. He learnt the art of coffee making and dark coffee beans from his home country.  As a result of his deeds, the Johannes-Diodato-Park in Wieden was dedicated to him.
Viennese Coffee Types
Cappuccino is a popularly coffee in Vienna. It's often prepared with steamed milk. There are different variations of this coffee. The iterations make use of cream and sometimes non-dairy milk substitute products. Some cappuccinos are flavoured using cinnamon and powdered chocolates.
Wiener melange is a similar coffee drink to cappuccino. The only difference besides the name is that melange is made with milder coffee and a lot of creams. In some cafes in Vienna, melange is made with half a cup of brewed coffee and half a cup of cream. It will be topped with milk foam. It's often shortened to "Melange" on menus, but the complete name translates to "Viennese mixture". Melange is a cappuccino with extra hot water.
This coffee is different from others as it comes with a dash of cherry brandy.
This kind of coffee is often served in a glass cup. It's an espresso with a lot of whipped cream. The whipped cream covers the surface of the coffee and insulates it to keep it warm to drink in the cold.
Verlänger means "extended one" or "an extension".This coffee is essentially an espresso diluted by hot water.
Caffeine-free/ koffeinfrei
With all the caffeine present in the previous options, it's nice to know a non-caffeinated variety. It might come in handy when you want to change the pace. koffeinfrei directly translates to caffeine-free. It's optionally available in Viennese coffee houses.
Best Coffee in Vienna
The most famous coffee might be the good old Weiner Melange. It's often mistaken for being the same as a cappuccino. A melange is an espresso shot in a large coffee cup or mug. It's topped with steamed and foamed milk. In Viennese coffee houses, you can also enjoy a meal with your cup of Melange. Popular traditional favourites include a face goulash with a sausage and egg or a mushroom goulash.
Coffee Houses in Vienna
Viennese coffee houses play a major role in shaping and preserving Viennese culture. Viennese coffee houses take pride in their art, social practices and elegance as a way to preserve history. Besides the warm welcome, refreshing ambience and tasty menu, there are some other things you should expect to always find in Viennese coffee houses; international newspapers, marbled tabletops and a glass of water. You get served a free cup of water along with your coffee. This is because Vienna has one of the best quality water in the world. It comes straight from the Alps.
Some other things you should expect to find in Viennese coffee houses are pastries and tasty meal menus. Although you can get carried away with the varieties of coffee, Viennese coffee houses aren't known for just their quality coffee but also their cakes. You can order a pastry or a meal along with your coffee. There's also no hurry as the coffeehouses welcome customers to take their time to enjoy the environment and treats.
How to Order Coffee in Vienna
Ordering coffee in Viennese coffee houses may be a bit complicated for most tourists, especially for those who don't speak German. There are variations of coffee styles that have a German name. For instance, when making an order at a Viennese coffee house, you can't simply say, "I'll have a cup of coffee".
If you're interested in a single espresso, request a Kleiner Schwarzer or a double say Großer Schwarzer. If you'd like a small container of milk or cream along with your coffee, ask for a Kleiner Brauner or Großer Brauner. To better understand ordering coffee in Vienna
You should learn the names of your preferred coffee types before making an order.  There are other coffees you can order aside from the ones named above. Ensure you check out as many coffee types as possible to make a befitting choice for yourself.
How is Coffee Served in Vienna?
Depending on the coffee you've ordered, you're served differently in some cases. The local favourite Wiener Melange for instance is served as a shot of espresso with hot water and foamed milk.
A Verlängerter is served as a shot of espresso diluted with hot water. A Mozart is served as double espresso with whipped cream topping and a dash of cherry brandy. If you'd like to order a cold brew coffee instead, try a Wiener Eiskaffee. This iced coffee is served with excess vanilla ice cream covered with cold milk with two shots of brewed espressos. Another type of iced coffee is the Mazagran. This is served as a strong black coffee with an ice shot of rum but with a bit of sugar. The waiters will serve you everything you might want to add to your coffee.
While this sounds odd, it probably should be said. Vienna cafes tend to have a charming, the-waiter-is-always-right serving ethos. On that note, don't ask for a second anything in Viennese coffee houses. In this setting, the waiters are of great poise and elegance. You might not get a reply if you ask for a second anything. This is unlike other restaurants across the world.
Coffee House Culture and Etiquette in Vienna
Coffee is a way of life in Vienna. Dating back as far as the 16th century, it has been a part of the fabric of culture and society in the Austrian capital. Some of the cultures and etiquettes customers should hope to enjoy are as follows.
A glass of water along with your coffee serving. Vienna is known for its high-quality water amongst many others globally. According to coffee house laws, the water help cleanses the palate.
When served your ordered coffee, you get a glass cup of water with a coffee spoon balanced face down on it. This is an old-world etiquette that has survived for centuries. This etiquette signifies that your glass of water has been freshly filled up.
Coffee is always served on a silver tray unfailingly. Other contents of the tray will include the spoon faced downward, sugar and of course, a glass of water.
Culturally, waiters in Vienna coffeehouses are addressed as "Herr Ober". While "Ober" means "waiter, it also means "superior". It's the way of respectfully addressing waiters in Viennese coffee houses. If the waiter is female, it's advisable not to use it because it could be disrespectful. Similar to the early years, waiters have usually dressed pristinely donning tailcoats with bow ties.
Newspapers are also available to go along with the sometimes formal ambience. Viennese coffee houses work with the newspaper industries. Daily supplies of newspapers keep the industry alive. These newspapers contain daily international info, and not just about Austria.
While this is more of culture than etiquette, you can hope to find some form of art. Some Viennese coffee houses have their walls decorated ornately. You could find classic portraits and glittering chandeliers. Some of these chandeliers are even decades old. The coffee houses also feature marbled tables, velvet couches, and elegant chandeliers and woodworks.
Another etiquette you can be sure to enjoy irrespective of the number of orders you make is the time spent. In Vienna, coffee houses are great places to spend the day. You can spend as much time as you like even if you order just one cup of coffee. Patrons aren't rushed. The aesthetics of the coffee houses make decisions to stay for a long period all the more convincing. You can expect to remain unbothered by the waiters also.
Viennese coffee houses are open all through the day for the most part. This gives a literal meaning to saying that patrons could stay there all day. There's an early breakfast menu, lunch and dinner. Following this is a late-night bar.
Keeping these cultures and etiquette is done with absolute finesse paying attention to details and tradition. UNESCO even added Viennese coffee house culture, among others, to the list of intangible cultural heritage.
Conclusion
Viennese coffee houses are top-notch. They are great places to visit if you're ever in Vienna. A person, not just writers, artists or readers can enjoy the ambience. There are many available coffee houses all over Vienna. Ensure you check out a couple and enjoy your stay.
Related Articles