Any coffee lover will tell you how coffee is a perfect pick-me-up drink. From the great antioxidant levels, the caffeine content, to the thick savory flavor, mention it. The beauty in coffee is in the ability to drink it in multiple different ways. Maybe you are used to iced coffee and it does the job. But this does not restrict you from trying out fun treats too. Sometimes you want a drink that is dessert-style while preserving the caffeine in your blend.
While it is true that you can always drive to your favorite restaurant for your coffee treat, it's also true that you can enjoy a treat from home using simple ingredients.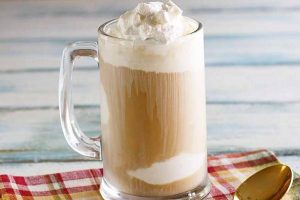 In this article, we explore how to make frosted coffee from home. How about using it in your next get-together with family and friends? It's fun, easy to make with simple ingredients, and everyone enjoys staying home with a cup of frosted coffee in their hands.
What is Frosted Coffee?
Frosted coffee refers to a combination of coffee and vanilla ice cream. It's the perfect treat, especially in hot weather. It's one of the iced coffee alternatives. The brand was launched by Chick Fil A in 2015 and is a version of Frappuccino from Starbuck. It was specifically made for summer, but since it had gained popularity, Chic Fil A retained it in the menu. Hence, it can be used across the seasons but mainly in summer and spring due to its chilly nature.
It's not what you would call an everyday drink but works well for special treats. If you love coffee in every one of its glorious forms, you will enjoy drinking this. It's close to a milkshake only that instead of the milk, you use ice cream. You can make as much as you want. It's a blended drink meaning it's made in a blender. Its consistency calls for using a spoon or straw and so it's not something you can rush. It's meant to be enjoyed slowly.
Let's get to making it:
Ingredients
Ingredients are key when making something at home. Otherwise, you might not achieve a good outcome. But after you make something and desire to make some changes, you can play with the ingredients.
For our frosted coffee recipe, we are going to need:
        2 cups vanilla ice cream
        ½ cup coffee
        1 cup cold water
        Whipped cream (optional)
In our case here we'll make one serving but you can adjust according to the number of people you are serving.
Equipment
We are also going to need the following equipment. If you don't have any of these you need not worry as you can improvise as we shall see.
        Grinder
        Cold brew coffee maker/French press
        Blender
        Refrigerator
        Sieve
But before we proceed with the how-to, for optimal results, let's see the ideal coffee and ice cream to use.
Coffee Considerations
You can use regular coffee or decaf coffee grounds. Some people also use instant coffee which is much easier to use. The ideal coffee to use is room temperature or cold coffee as hot coffee will melt the ice. Cold-brew gives stronger, slightly sweet coffee without bitterness.
Which Ice Cream is Ideal for Use?
Vanilla ice cream is the ice cream of choice but you can use chocolate ice cream if desired.
How to Make Frosted Coffee
This is the fun part. It's always good to follow the book one way and play with other recipes until you get it as desired.
Begin by preparing the cold brew
Coarsely grind the coffee beans. You do it coarsely to allow for adequate steeping. Pour the coffee grounds into your French press or cold brew maker.
If you don't have a cold brew maker, you can use a large container. Pour the cold water into the cold brew maker and let the cold brew steep for 16 hours on the shelf or 18 in the refrigerator.
Sieve the coffee beans using a cheese filter cloth into a pitcher or container.
To the cold brew, add the two cups of vanilla ice cream and mix in a blender.
You can source the vanilla ice cream from your preferred store. It has to be of good quality, though, to ensure the quality of the end product.
Run until the consistency is like that of a milkshake. It goes for about 2 minutes.
Top up with whipped sweet cream as preferred.
You can prepare your whipped cream from home or buy it from your store.
How to Make Whipped Cream
To make your own whipped cream, you only need a few ingredients and you are good to go.
Heavy cream
Powdered sugar
Your favorite flavor of coffee creamer
The amount of each depends on how much whipped cream you want to make.
The coffee creamer is not a must if you don't want it.
Put the heavy cream in a cold bowl; blend the cream until you see frothy peaks.
Add in 1 to 2 tablespoons of powdered sugar depending on how sweet you want it.
Add in your coffee creamer if you need it now.
You can use ¼ or ½ cup of creamer for this or less if you don't want it as sweet. You can also sprinkle your favorite spice on top: cinnamon, nutmeg, or pumpkin.
You can also do both the creamer and the spice toppings as you desire. The bottom line is you are at liberty to add anything that you prefer.
      Serve to drink as desired.
Is Caffeine Content Less in Frosted Coffee?
A small cup size has about 130 mg of caffeine while a large size has 160 mg. Cold brew contains less caffeine than hot coffee as hot water extracts more caffeine than cold water. The caffeine content is also less in frosted coffee than the hot coffee as some space will be taken up by the ice cream and toppings.
Is Frosted Coffee all Good?
Frosted coffee contains 240-300 calories depending on the size. A huge ton of calories, huh? Is it good for you? It's not bad because it's done occasionally. The only reason we are pointing it out is that there are people who care about calories. Otherwise, everything taken in moderation is good and acceptable.
Now you know a new and effortless way to enjoy your coffee. It would be the perfect summer gift to cool off the heat while enjoying your pick-me-up. It does for lazy days as well as celebratory days. What about after a really bad workday? For anything really, you can count on this blend of frosted coffee. Enjoy your cup of frosted coffee whenever desired.