Billions of people take coffee every day worldwide. It is a popular drink that is taken not only for its stimulating properties but also for health improvement.
Although many coffee drinkers are focused on taking coffee as a beverage, it has many other uses.
Coffee is used to make beauty products, as air freshener, for cleaning, and to make crafts in recycling projects. Perhaps the use that stands out among these is using coffee for beauty.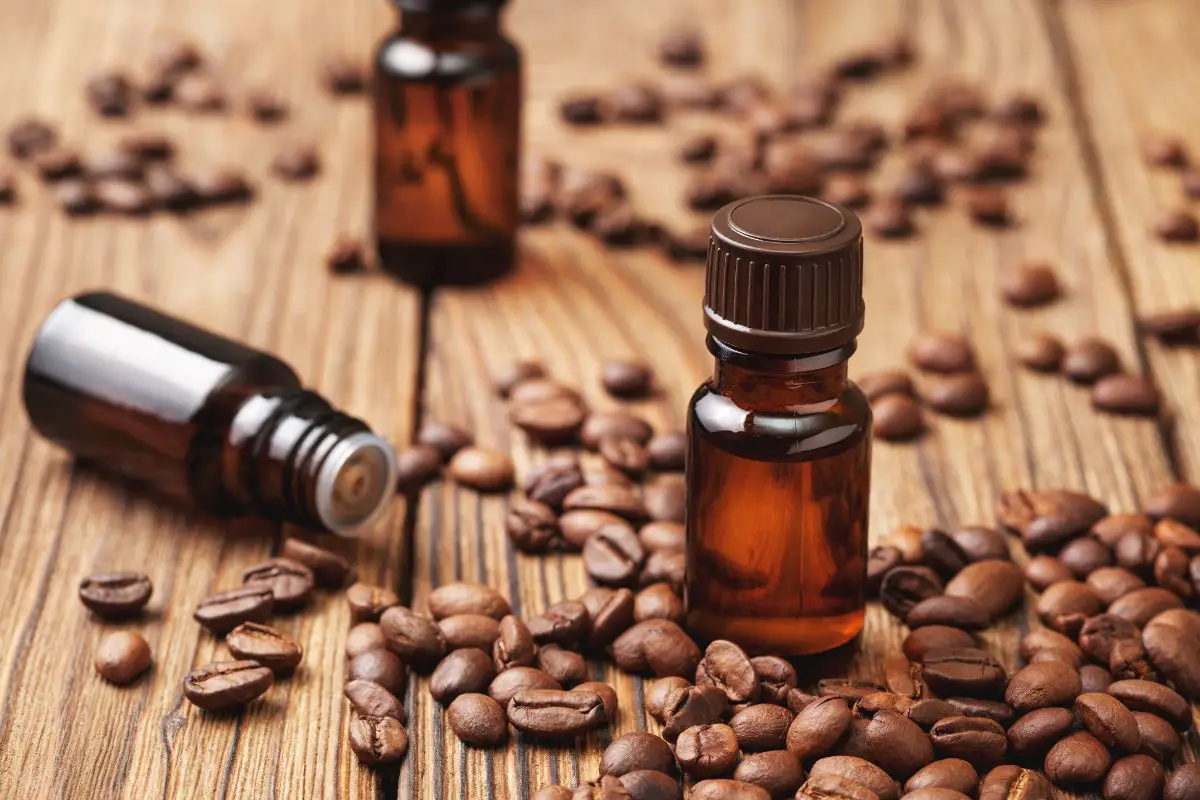 There are scrubs, soaps, masks, and aromatic oil infusions made from coffee that many men and women use to improve their appearance. Although there are great commercial coffee beauty products, you can also make most of these items at home.
One of the simple coffee beauty products that you can try is coffee oil for hair.
What is Coffee Oil?
Coffee oil is made by infusing carrier oils such as Jojoba oil, coconut oil, and olive oil with coffee beans. Some people also use coffee grounds to prepare coffee oil.
You may wonder what makes coffee an ideal ingredient for coffee oil making. Well, it's the caffeine and antioxidants in it.
Coffee's caffeine content infuses oil with stimulating properties that can awaken the cells of any part of the body you use coffee oil on.
Its antioxidant properties can prevent the damage caused by free radicals and other substances that trigger ailments and aging.
Coffee also has beneficial oils known as caffeol that are released during roasting. These oils are usually visible on the surfaces of medium and dark roast coffee beans. They contain essential fatty acids that are great for skin and hair due to their anti-inflammatory properties.
These properties of coffee oil make it an ideal product for hair. The caffeine is powerful enough to awaken hair follicles and encourage them to increase hair growth.
Coffee oil is often used as a natural hair remedy by people suffering from premature hair loss as a hair-regrowing agent. It is also suitable for reducing hair fallout or breakage.
You may think coffee oil for hair is only ideal for women, but men can also benefit from using it on their scalp.
Some scientific studies have found that coffee oil can prevent or slow down alopecia or male pattern baldness. Its essential fatty acids lower inflammation at the hair follicles which contributes to hair loss.
Coffee oil can also soften hair and give it an attractive shine and appealing coffee fragrance. Its antioxidants, such as phytosterols, improve hair moisture retention preventing dandruff.
You may feel these attributes of coffee oil are worth giving the oil a try and decide to make some yourself. It's quite simple. Here is a coffee oil hair recipe you can use.
Coffee Oil for Hair Recipe
Ingredients
2 Tbsp of medium or dark roast coffee grounds
6 Tbsp of coconut oil/almond oil/ jojoba oil
Vitamin E oil
A small, flat-bottomed pot
A Strainer
An airtight bottle
Procedure
Pour the coffee grounds and oil into the pot and mix them together properly. Heat the mixture on the stove at low heat.
Keep slowly stirring the oil mixture for ten minutes as it simmers, ensuring the heat stays low.
Remove the oil from the stove and let it cool down.
Sieve out the coffee grounds, add a few drops of Vitamin E oil into the coffee oil, and pour it into a small airtight bottle.
Store your coffee oil in the fridge or a cool, dry place and use it within 2 or 3 weeks.
If you want to add more value to your coffee oil, consider adding anti-microbial ingredients such as lavender or tea tree essential oil.
You can also make coffee for hair by microwaving coffee grounds in the cooking oil you prefer. It only takes 2 or 3 minutes to make coffee oil using the microwave method.
Some people prefer to infuse carrier oils with coffee beans to make coffee hair oil instead of using the heating process. Here is the procedure.
How to Make a Coffee Oil for Hair Infusion
Ingredients
Your favorite roasted or green coffee beans
Coconut oil/almond oil/jojoba oil
Tea Tree Oil
An airtight glass jar or bottle
Procedure
Pour the carrier oil and tea tree oil into the glass jar and scoop the whole coffee beans in. You can also grind them and pour the coffee grounds into the oil.
Store the coffee oil infusion in a cool dark place and let the coffee infuse its properties and aroma into the oil for 2 – 4 weeks.
Sieve out the coffee grounds and store your coffee oil in a cool dark place. You can use this oil for two to three weeks.
How to Use Coffee Oil for Hair
Coffee oil is very beneficial for hair. You can use it to improve your hair's appearance, length, and texture in several ways.
Mix it with fresh coffee grounds to scrub off dead cells from your scalp and stimulate blood circulation before shampooing.
Add it to a hair mask with ingredients such as honey or yogurt to give your hair great shine and moisturize it.
Use it in a pre-shampoo treatment before washing it off with conditioner during a simple hair-wash procedure.
Lightly apply it on your hair regulalry to keep your scalp healthy and strengthen your hair.
Coffee oil's attributes make it an effective hair oil, but it's not for everyone. So, make sure you perform a patch test on your scalp before using coffee oil on it to avoid an allergic reaction such as a rash.
Also, watch out for coffee oil's hair-darkening effects, especially if you've used dark roast coffee grounds to prepare it.
People with light-colored hair should consider using light roast coffee beans to make coffee oil or use another natural hair oil that does not darken hair color.
Some say that using coffee oil on their scalp and hair at night keeps them awake due to its caffeine content. You can avoid such an occurrence by not applying coffee oil to your head close to bedtime.
It's best massaged into the scalp in the morning to stimulate blood circulation and give you an invigorating feeling.
Conclusion
Now that you know how to make coffee oil for hair, we hope you'll use it as part of your home hair care remedies. It's easy to make and keeps for long without going rancid.
The ingredients we recommend for making coffee hair oil are also all-natural. If you are looking for a chemical-free hair product to use on your hair, coffee oil is a great option.
Also Read: Coffee Oil Benefits