Coffee is a well-loved beverage in the world. Everywhere you go, there is a place where you can buy or sell coffee beans and beverages. It is a lucrative trade that attracts lots of investors.
There are also lots of professionals hired in the coffee industry. The most respected individuals are baristas. These individuals are essential in the running of your favorite coffee shops.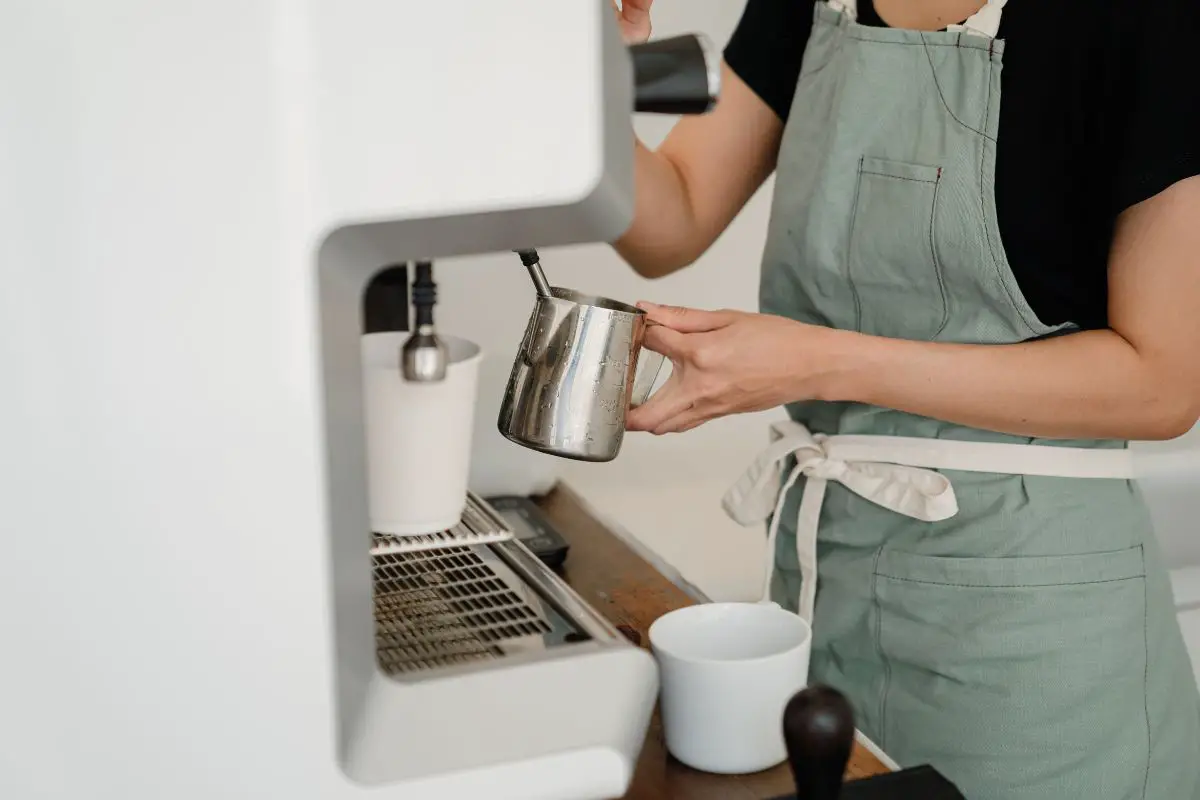 What is a Barista?
The term barista comes from the Italian word for bartender. In coffee-making circles, a barista is an individual who runs affairs surrounding the brewing, serving, and operating of coffee machines in a coffee shop.
They are aware of what happens at the back of the cafe to get you the coffee you love and what it takes to run the front end to keep customers happy.
Baristas are individuals who have immense knowledge concerning coffee beans, the use of various coffee machines, and how to brew the best coffee and serve it. They work alongside staff in coffee houses, cafes, and coffee shops to prepare coffee for customers.
Their knowledge and skills are based on information gathered from years of studying everything about coffee and apprenticing under expert coffee makers.
These attributes may make the position of barista seem out of reach for individuals who are passionate about coffee and would like to make a career out of preparing and serving it.
The idea that being a Barista is complex may come from observing them doing their work in a high-end coffee shop while preparing your favorite brew.
How do they know how to make coffee taste just right? And what does it take to create that fantastic latte art on coffee? "Working as a Barista must be quite difficult," you would think.
That's a misconception. It's easy to be a barista if you attain the required qualifications. Here's what you need;
Requirements for Being a Barista
    1. Customer Care Skills
Baristas are always interacting with customers. They ask for customer preferences, explain what is available on the coffee menu, and prepare the ordered coffee drinks.
They are also responsible for creating signature coffee drinks in some coffee shops to satisfy customer demands. These may seem like easy functions, but they require skill and care.
Some of the attributes you should have as a barista to meet your job requirements are;
An outgoing personality and interpersonal skills
Impeccable attention to detail
Deep knowledge and love for everything concerning coffee
The ability to excel under pressure and multi-task
Financial skills that will aid in handling money
Awareness of health, safety, and food protocols
    2. Rich Knowledge on Coffee and Coffee Brewing
People come to the coffee shop to buy excellent coffee. Otherwise, they would make their own coffee at home or buy some from local coffee machines.
A barista is expected to know enough about any coffee beverage on the cafe menu and make it well.
Coffee drinkers have different tastes depending on the weather, the time of day, or their mood. That accounts for the various beverages on most coffee shop menus.
They include everything from black coffee to milky lattes, iced coffee, frappuccinos, espressos, macchiatos, and other coffee drinks.
These are a mix of hot and cold coffee beverages that a barista should be an expert at making by using the right quantities of ingredients used to brew them and serving them correctly.
That includes the ingredients used to prepare coffee beverages, how coffee-making machines operate, and how to serve these drinks to customers.
A barista's knowledge of all things coffee should grow as coffee continues to evolve. That means they should learn modern ways of coffee brewing as they come up.
Customers who are passionate about coffee and the developments in the industry will expect this from them.
    3. Prior Experience Working in a Coffee Shop
There are servers, kitchen staff, and other professionals in a coffee shop, and there is the barista. If you are looking to be the latter, you need some experience working in all positions in a coffee shop. That means running the front end and back end of things.
That may require you to intern or apprentice as a server, coffee shop attendant, or kitchen assistant in a restaurant, coffee shop, coffee roaster, and other places where coffee is prepared, brewed and sold.
Prior experience working in these positions will give you an understanding of how to;
Deal with the different needs of customers
Brew different types of coffee excellently
Handle other responsibilities that keep coffee shops afloat
Source for the best coffee-making ingredients
Maintain the various coffee equipments in coffee shops
Once you have all these skills, you can work in any position in a coffee shop and even operate it.
    4. Training on Various Coffee-making Skills
Apart from the interpersonal skills and professionalism needed to keep things in a coffee shop running smoothly, you also need training on the various processes involved in coffee making. That's current knowledge on ;
How to roast and grind fresh coffee beans for coffee brewing
How to prepare coffee beverages and serve them correctly
How to maintain your coffee equipment and follow necessary hygiene rules
How to work the point of sale cash or card system
How to perform stocktaking and ensure you have all the ingredients required for coffee making
How to do your bookkeeping to ensure your coffee gives you good returns
You should learn all these skills according to international standards to prepare coffee that will attract a diverse group of customers and maintain a successful coffee shop.
People who are serious about being baristas learn all these skills from experienced baristas who not only have knowledge of how to make great coffee but also on how to run a successful coffee-selling establishment.
These skills are also achieved by getting certified qualifications for baristas.
    5. Get Qualification
You should have a high school diploma or equivalent to train as a barista. Most coffee shops also require anyone training with them for such a position to have attained at least 18 years.
It's also essential to sit and pass barista exams that will earn you certifications you can use to get hired as a barista in reputable coffee shops or cafes. That means passing numerous tests to prove you've mastered all the skills required by baristas to perform their duties excellently.
Some professionals also add other qualifications to their barista certifications, such as certifications in hospitality, customer care, and HR.
All these efforts will get you a job as a Barista that can earn you a healthy paycheck. The salary and tips a barista can make depend on the coffee shop they work for. You can earn about $ 26,000 a year as a barista. International and national coffee shop chains pay better than local cafes.
    6. Get an Internship or Apprenticeship
You can improve your chances of getting a job with a good establishment by working on your skills and building an impressive resume.
Start by visiting your favorite coffee shop and asking if you can moonlight there. Engage with the staff in the coffee shop at every level.
It will give you a chance to learn the skills necessary to keep the whole coffee shop running, which may help you later when you work in a big establishment.
Take your time in apprenticeships or internships because what you learn there will serve you well when you undergo an interview or appraisal for a job in a reputable coffee shop.
It will give you a chance to practice what you have learned while training to be a barista. Such efforts will also encourage reputable coffee shops to hire you.
What Happens If You Can't Get an Internship as a Barista?
The coffee market is competitive and in need of skilled individuals. You may have a hard time getting a job as a barista as fast as you would like. That shouldn't keep you from working on your craft.
Here are some things you can do to get you closer to your dream job as a barista
Purchase some coffee-making equipment and practice the different coffee-making skills. Some examples are an espresso coffee maker, a burr grinder, and a milk frothing machine.
Learn how to make the most popular coffee beverages in coffee shops, such as Espressos, Americanos, Lattes, and Cappuccinos.
Practice how to serve coffee to friends and family in the professional way required in coffee shops.
Test different types of coffee beans and discover the individual flavor notes they bring to coffee beverages.
Take online courses to sharpen your abilities concerning being a barista.
Final Thoughts on How to be a Coffee Barista
A coffee barista is an integral part of a coffee shop. Learning how to become one takes years.
You need a deep love of coffee and everything associated with it to succeed as a barista. If you've been dreaming of being a barista, you now know what it takes to be one.
Once you become a barista, you can work at a hotel, restaurant, cruise ship, or coffee shop chain. There are excellent coffee establishments worldwide which means you can work anywhere.
Start working on these skills, and you'll be selling coffee and enjoying working in a coffee shop of your liking within no time.
Read related article: