Vienna is associated with great food. Coffee houses line up most streets because drinking coffee is an integral part of the food culture in Vienna.
These eateries have always been used as discourse centers where people can meet, have coffee, and have great conversations while enjoying each other's company.
Famous writers, poets, and revolutionists such as Arthur Schnitzler, Alfred Polgar,  Lenin, and Trotsky held thrilling debates and discussions in many of these coffee houses. That habit continues today.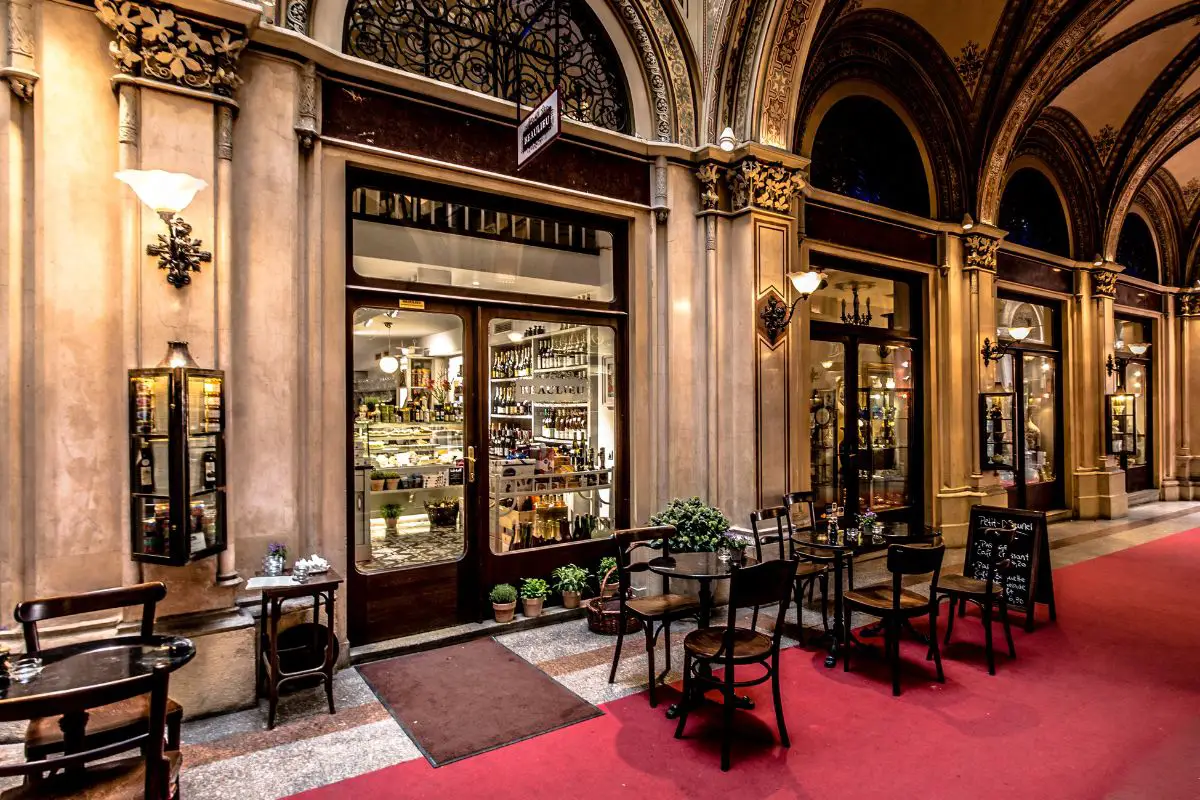 History of Vienna Coffee Houses
The first person to serve coffee in Vienna was George Franz Kolschitzky, a revolutionary who fought well during the siege and gained recognition among the citizens. He brewed the coffee using coffee beans left behind by the Turks.
That opened the way for Diodato, an Armenian spy to open the first coffee house in Vienna. The coffee house was equipped with pool tables and card games that people enjoyed playing while sipping their coffee.
At that time, only men were allowed in coffee houses. That changed in 1856 when women were also allowed to frequent coffee shops in Vienna, making the atmosphere more vibrant.
In the 1950s, Vienna experienced what was referred to as "coffee house death." That was when televisions pulled coffee lovers away from coffee houses as they preferred to brew coffee at home and watch tv.
Espresso bars also popped up all over the city prompting coffee lovers to change their leisurely coffee-drinking habits. Now they could ask for an espresso, down it in minutes, and rush off.
Today, coffee houses are littered all over Vienna because it has become a European tourism hub.
Coffees in Vienna Coffee Houses
Vienna has over 2,000 coffee houses where you can have a cake and coffee and observe the fantastic Viennese lifestyle.
The oldest cafe in the city dates back to the 1600s and is part of the 130 traditional coffee houses in the city. The rest are modern coffee houses.
It feels good to sit outside these well -decked out establishments as you enjoy a Mélange ( their version of cappuccino) with a Sachertorte cake.
Other examples of coffees on the menus of Viennese cafes are Viennese Pharisäer coffee, Kleiner Schwarzer, and Einspänner mit Schlagobers.
Here are five examples of coffee houses you should visit the next time you go to Vienna.
     1. Cafe Hawelka
The best cafe to visit in Vienna's first district is Cafe Hawelka. It's a family-run cafe featured in many songs that dates back to the 1930s.
This cafe has been patronized by famous people such as Andy Warhol, Ernst Fuchs, Falco, and Peter Ustinov.
Cafe Hawelka is a great place to visit for some Mokka coffee and Buchteln (a sweet roll created by Josefine Hawelka, the cafe's founder).
     2. Cafe Central
A great cafe to visit on high-end Herrengasse is Cafe Central established in Vienna during the 1870s.
It was a favorite cafe for intellectuals like Adolf Loos, Sigmund Freud, and Alfred Adler. The cafe was also frequented by chess and tarot game players.
Cafe Central is the perfect place to enjoy a Kaffee mit Schlag and a Café Central Torte.
     3. Café Espresso
Café Espresso is an espresso bar established in the 1950s that is a great place to visit if you are into modern coffee houses. It serves coffee, alcoholic drinks, pastries, and food at any time of the day.
This cafe is famous for its milk frappes and Espresso toasts. It's a great place to have a drink or coffee, depending on when you visit it.
     4. Café Rüdigerhof
Café Rüdigerhof is the ideal Viennese cafe to visit if you love coffee houses with gardens. It is established in an eye-catching art nouveau building in the fifth district.
Here, you can enjoy a coffee in the beautiful outdoor space or have a meal, depending on how you feel.
Café Rüdigerhof has a wide selection of coffees, with a popular option being mélange coffee.
     5. Café Schwarzenberg
Café Schwarzenberg is a traditional Viennese cafe on Ringstrasse boulevard in the Innere Stadt district. It is the oldest existing cafe in this area.
The schanigarten in Café Schwarzenberg is a hub of activity every day as tourists, and Viennese locals enjoy Kaffeehausmusik.
It's the best place to enjoy an 'Alt Wiener Art,' a popular hot chocolate beverage served with whipped cream that many locals appreciate.
Conclusion
That's some information on coffee houses in Vienna. You now have an idea of how many coffee houses are in this beautiful city.
You can see the culture of drinking coffee houses is entrenched in Viennese culture.
It brings to mind a comment by Geert Mak,"Without coffeehouses, there is no Vienna. Without Vienna, there is no coffeehouses."
Related Article: