Best Kona Coffee
Kona coffee is one of the most premium coffees in the world. There is a reason why many people want to have a taste of this coffee. But how good is Kona coffee? Is Kona coffee the best in the world? And what is the best Kona coffee? Well, in this article, our experts at Coffee Prices will answer all the questions you may be having in mind regarding Kona coffee.
What is Kona Coffee?
In simple terms, Kona coffee is an Arabica coffee variety produced in the Hawaiian region of Kona. The Kona region sits along the Hills of Hualalai and Mauna Loa in the Southern and Northern districts of Hawaii Island. Thus, this coffee has its name originating from the Kona coffee growing region. The coffee is specially grown, harvested, and processed within the Kona coffee belt.
Essentially, there are many coffees grown in Hawaii. But which Hawaiian coffee is best? Well, Kona coffee is believed to be the best Hawaiian coffee. Only coffee beans produced in the Kona region qualify to be called Kona coffee. We will help you avoid scams that may be challenging to catch.
What Makes Kona Beans Popular?
Genuine Kona beans are popular for several reasons. To start with, they feature a spectacular terroir and are grown under high cultivation standards. Also, the rich volcanic soil in the Kona region allows the coffee trees to produce premium quality beans.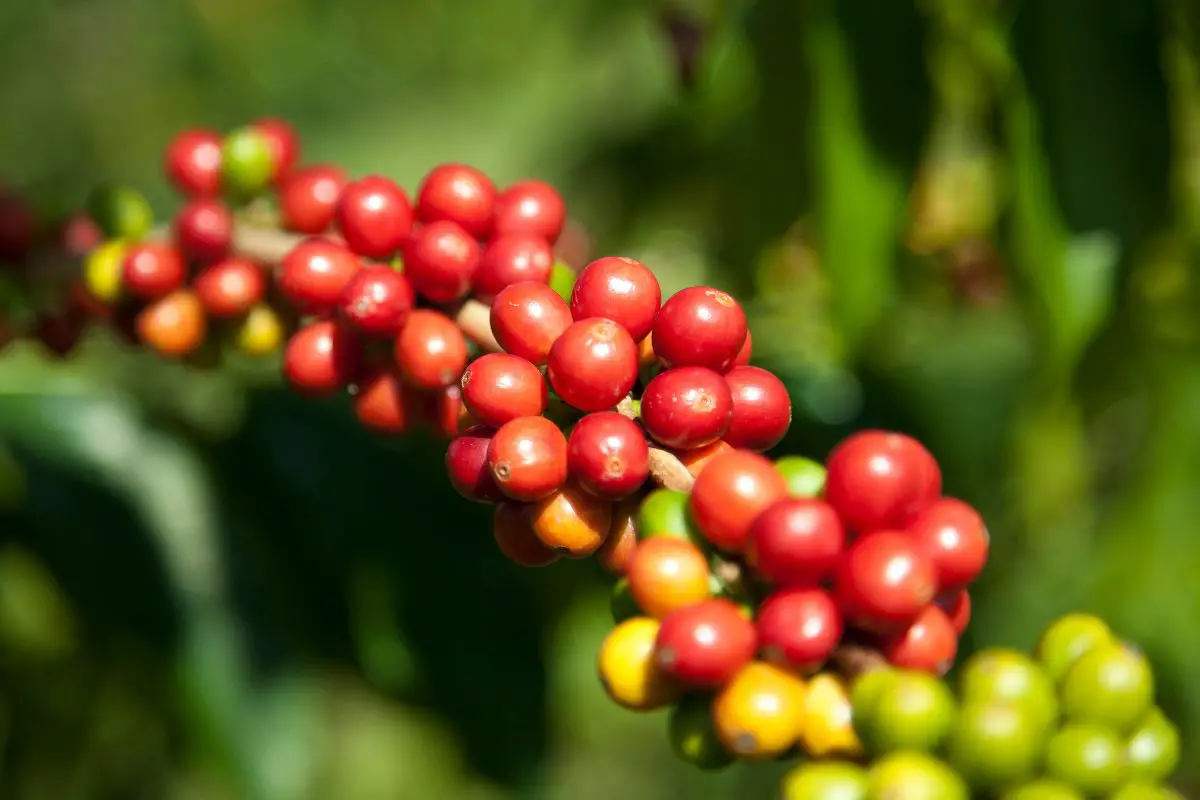 The quality control regulations put in place for Kona brands to comply with also allows for high-quality Kona coffee beans. For instance, all the cherries are checked, where cherries that are not ripe enough and those that are too ripe get discarded.
Only perfectly ripe cherries undergo further processing. Once the seeds are extracted, any seeds showing defects are removed. Thus, only the top-quality beans reach the market.
Is Kona Coffee Good? 
Kona coffee is really good. But what does it taste like? Well, the top Kona coffee features a unique aroma and flavor profile. Although the taste of most coffees is often affected by the freshness of the beans and the brew method, perfectly brewed coffee from Kona beans offers hints of sugar, honey, bright fruit, and milk chocolate.
It leaves a pleasant, lingering aftertaste comprising hints of citrus and nuts on the pallet. Additionally, it offers a sweet and unique mix of aromas such as fruit, cocoa, caramel, or butter. All these qualities make it one of the best coffees in the world.
Why is Kona Coffee Expensive?
Generally, Kona coffee is more expensive than other types of coffee for several reasons. First, Kona coffee is grown under very strict and high standards. Thus, the final product is premium coffee beans. Second, there is a limited supply of Kona coffee, yet the demand is quite high for each annual crop. Also, the Kona region is faced with logistical challenges in shipping the beans. Thus, the overall price of Kona coffee is quite high.
Where Can I Buy Kona Coffee Beans?
If you shop in local supermarkets and grocery stores regularly, you may be wondering why you hardly see pure Kona coffee brands on their shelves. Genuine Kona coffee is rare. You can only find pure Kona beans from a small number of online coffee roasters. Luckily for you, we have made it easier to find the best place to buy Kona coffee beans as you will see later in this article.
Scams to Avoid in the Kona Coffee Industry
Kona coffee has a rich history that started in the 1800s. Although these gourmet beans have been popular from the time they were first produced, opportunists and unscrupulous dealers have always attempted to make money with scams based on these beans. There are several fake Kona products on the market today. But how can you differentiate real Kona coffee from fake brands? Here is how to know whether you are dealing with genuine Kona beans or scams.
Avoid Kona Blends
Since Kona coffee is quite expensive with limited genuine brands, many companies result in producing Kona blends at affordable prices. However, these blends cannot give you the real Kona coffee experience. These blends only contain about 10% Kona beans and 90% low-quality city roast or dark roast. Only buy 100% pure Kona brands.
Check the Grade
Hawaiian coffee undergoes very thorough testing. The Hawaii Department of Agriculture (HAD) is responsible for grading Kona coffee. The grading is done based on the shape, size, possible flaws, and moisture content of the beans. The highest grade is known as Extra fancy whereas the lowest grade is known as Mixed Natural Prime. There are other 6 grades in between including Fancy, No.1, Select, Prime, No.3, and Natural Prime.
Check the Origin
When shopping for Kona coffee, always avoid "Kona beans" whose origin is not the Kona Belt. If they are of a different origin, they are not genuine Kona beans. Even if they are from other parts of Hawaii, as long as they are not from the Kona region, then you are not getting the real deal. While this does not mean coffees from other Hawaii regions are bad, what you are looking for is genuine Kona coffee.
Buy from Trusted Kona Roasters
When shopping for Kona coffee, you will come across numerous roasters. Only buy Kona beans from trusted roasters. They should offer transparency on the origin of their beans, the type, and grade. We have only included trusted roasters in our shortlist below.
Best Kona Coffee Beans to Buy
Now that you know how to avoid fakes, you will find it easier to know the best Kona coffee to buy. We have made it easier for you by shortlisting a list of the best Kona coffee in the world. We have only listed reputable brands sourced from the Kona Belt. Thus, you can rest assured you are choosing from the best deals.
Kona Peaberry Coffee from Volcanica Coffee Company 
If you are looking for the best peaberry Kona coffee, consider this brand from the Volcanica Coffee Company. Volcanica only deals in coffee beans grown at an altitude of at least 3,000 feet above sea level. Also, their beans are grown in volcanic soil. Their Kona coffee is special and rare in that it comprises Kona Peaberry, which is only about 5% of any Kona crop.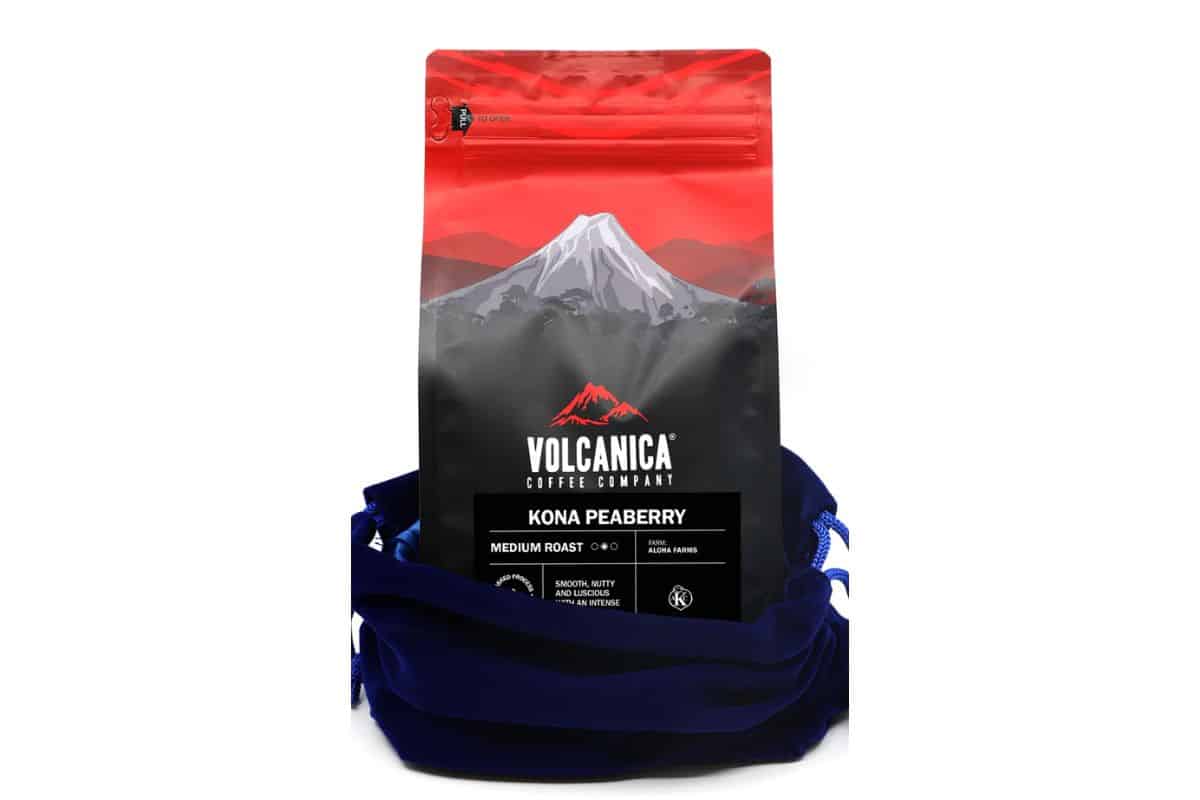 Kona Peaberry Coffee features flavors of toasted almonds and chocolate with an orange aroma. The coffee is sweet with notes of honey and a fuller body. It is ideal for coffee lovers who prefer coffee with low acidity and rich flavor.
Pros
The beans are only roasted after you make an order for maximum freshness
Balanced medium roasted
Low acidity and mild sweetness
Volcanica rinds the beans depending on your preferences
Cons
Kona Coffee Tri-Pack Medium Roast from Koa Coffee
Koa Coffee stands out as one of the best Hawaii coffee brands in that it is a family-run coffee business. Their Kona Coffee Tri-Pack comprises the highest Kona coffee grade (Extra Fancy). The coffee is sweet with a clean flavor profile and no noticeable bitterness.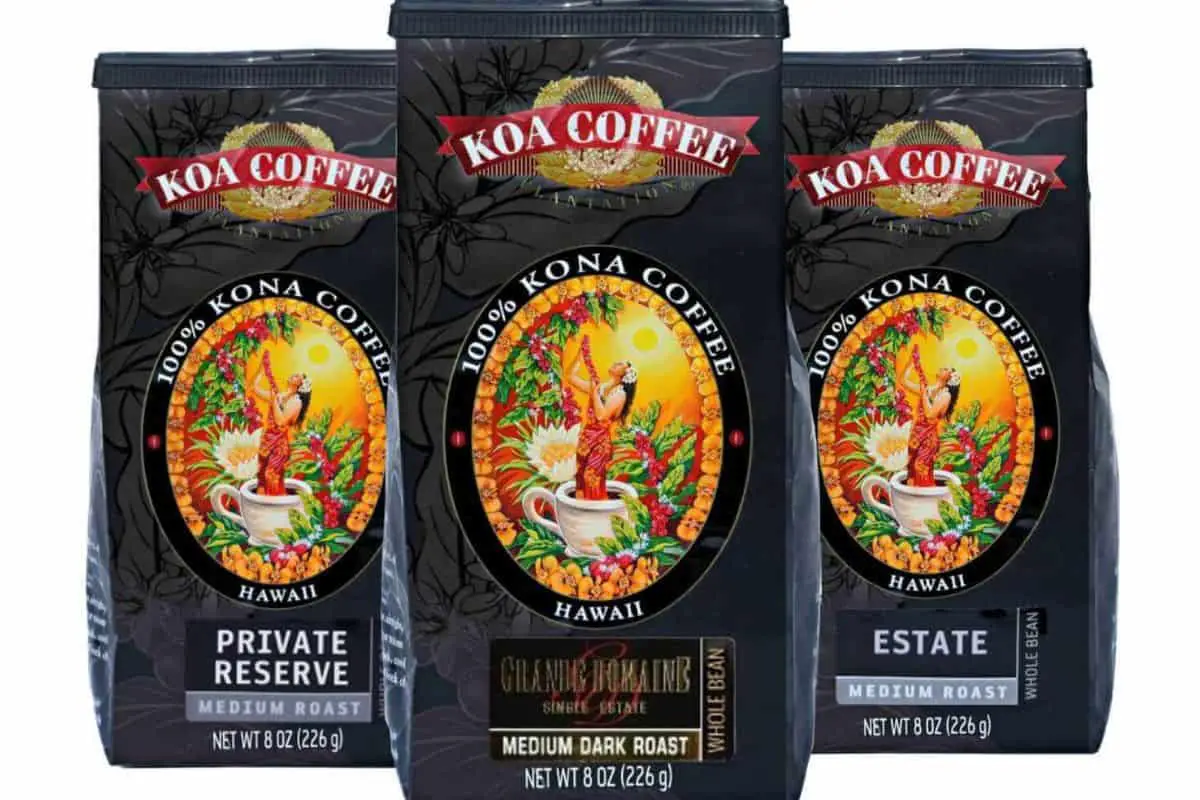 As a coffee with a medium body, it works well when prepared as black coffee. Regardless, it is also suitable for adding milk. Also, it is one of the best Kona coffee for French press, especially when you want to enjoy much of its complexity. It is also one of the best Kona coffee for pour over.
Pros
Award-winning family-run company
A great introduction to Kona coffee
Comprises hand-picked beans
Economical tri-pack
Cons
Only available as either whole beans or one ground size
Royal Kona Estate Kona Coffee 
The Royal Kona Estate Kona Coffee by the Hawaii Coffee Company is among the most popular Kona coffees. Besides, the Hawaii Coffee Co is one of the best Hawaiian coffee company. It is available as a medium roast Kona coffee, with the roast process customized for a unique taste character.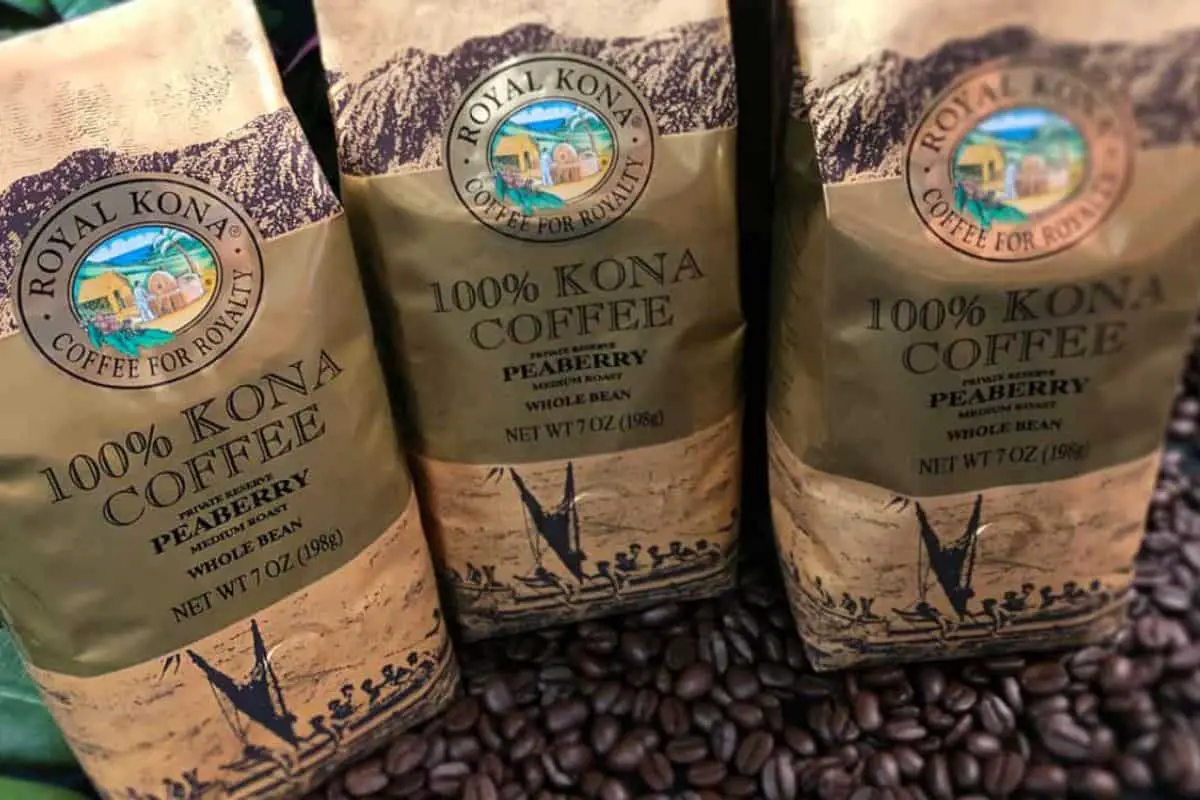 Their beans are harvested and processed in their facility situated within the Kona Belt. These beans are most suitable for coffee enthusiasts who prefer a sweet-toned cup of Joe without any bitterness. The beans offer a smooth, clean, full-body, and vibrant taste. Also, it features rich buttery flavor notes with caramel undertones and hints of floral notes.
Pros
Extra fancy grade
Bright flavor
Roasted upon making an order
Cons
Hawaiian Lion 24K Gold Roast
The Hawaiian Lion 24K Gold Roast is one of the best Kona coffee for sale. It comes as gourmet coffee and is available as a perfect drip grind. It is full-bodied, with a flavor profile you will find hard to resist once you try it.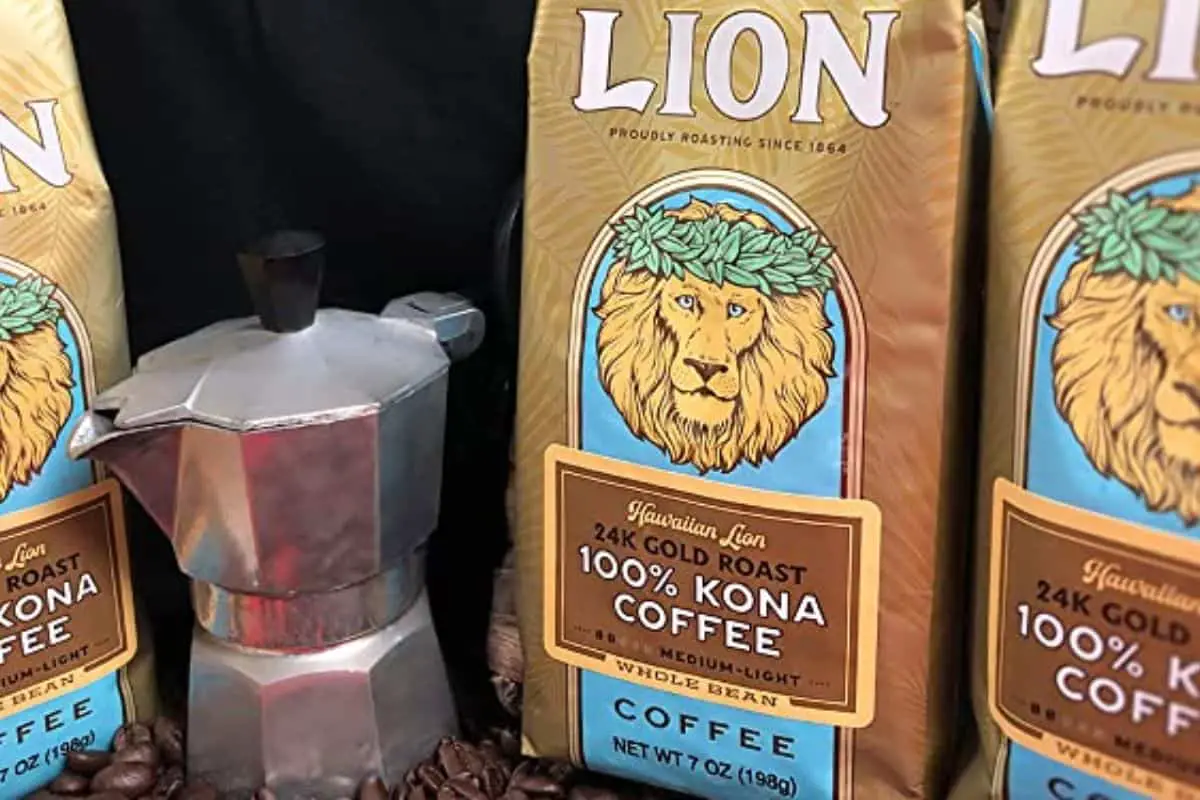 The coffee comes as a medium-roast with a smooth, robust flavor. Also, it comes as fresh ground Kona coffee. You can brew with it out of the packet for a fresh and strong cup of coffee.
Pros
Strong and smooth
Full-bodied
Exotic gourmet flavor
Cons
Peaberry Kona Coffee Beans from Koa Coffee
These are yet another top-quality Kona beans from Koa Coffee. These beans make very delicious coffee. Peaberry Kona Coffee is sweeter and smoother than regular Kona beans. They are special in that they are a natural mutation of coffee cherries.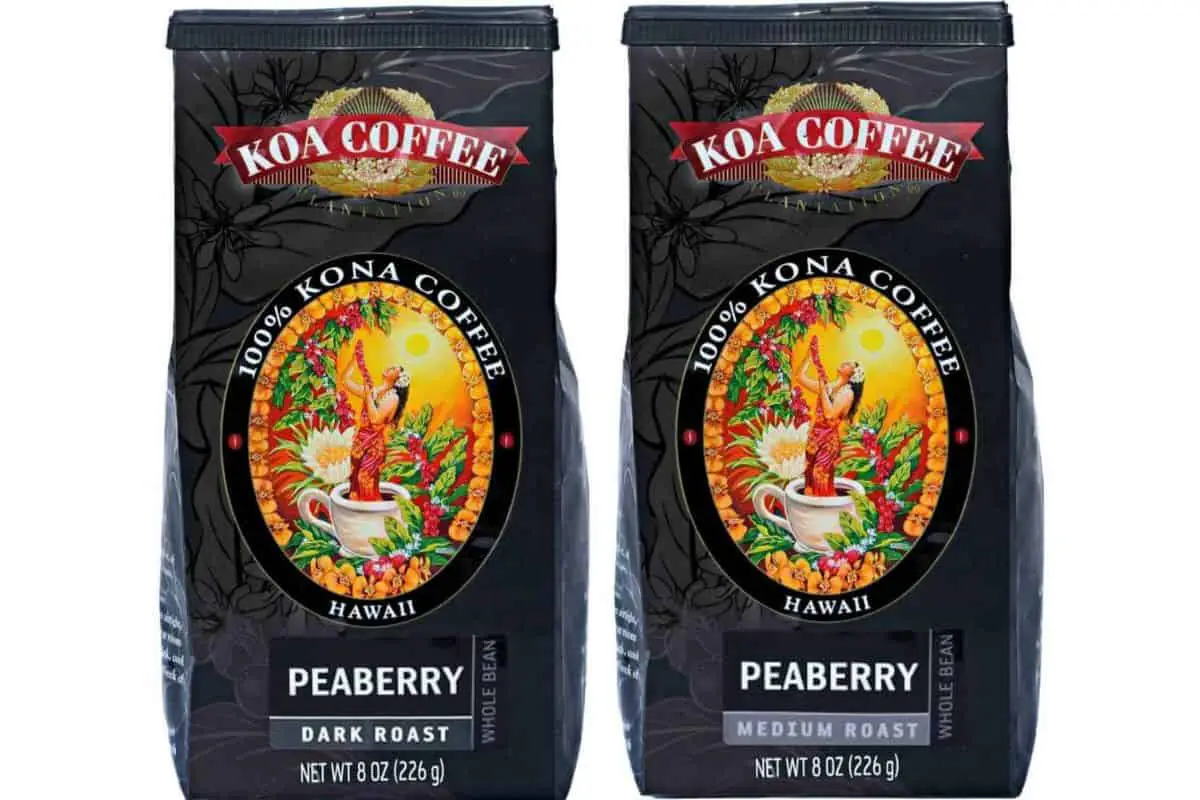 Also, these beans are hand-picked when harvesting to ensure only the best beans undergo further processing. Due to the high demand and restricted supply of Kona Peaberry coffee, you may want to join the best Kona coffee subscription to get unlimited supplies of the beans.
Pros
Sweet and smooth flavor profile
Rare delicacy
Great for K-coffee
Cons
Final verdict: What is the Best Kona Coffee Brand in Hawaii?
All the Kona coffee brands we have listed are worth your money. Overall, the best type of Kona coffee is the one that suits your taste preferences. Remember to check the origin of the beans before buying. Avoid beans that do not come from the Kona Belt. Also, avoid blends as they may not give you a true experience of Kona coffee.